Have you ever considered to visit Tallinn? Or have you ever heard of it at least? You should have. To be completely honest, it wasn't on our top list of cities to visit either. But while staying in Helsinki for four weeks we were practically handed the opportunity on a golden plate. In our opinion it's a very underrated city that is definitely worth a trip!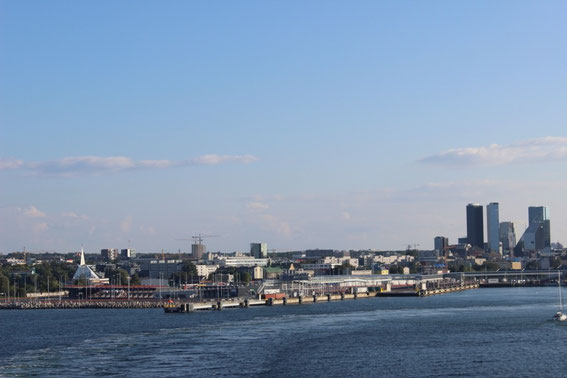 Last Saturday we finally took the chance, booked a ferry and went on a one-day trip to the beautiful capital of Estonia Tallinn.
To make the most out of our one-day-trip we got up at 6 am, packed our stuff, took the bicycle to the harbour of Helsinki and after two hours we finally arrived in Tallinn (fortunately the weather was nice so we didn't get sick).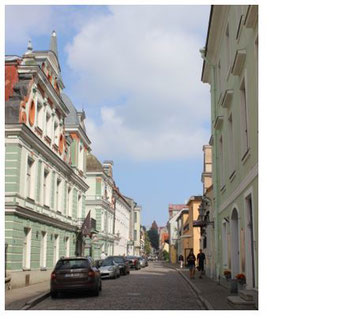 The city or more accurately downtown Tallinn, is quite small but very beautiful, especially its old town. The houses are very colourful, there are a lot of flowers and gardens and many buildings are influenced by the Russian culture, like most of the things in the city. The streets are filled with musicians and people dressed up in the traditional clothes and you can find Matrjoschkas, lots of amber and knitted clothes in every corner of the city. It's just plain gorgeous.
The funny thing is that in comparison with Helsinki you could really notice a big difference in culture and architecture although the two cities are merely 90 km apart. Most of the people there are very outgoing and friendly. They approached and talked to us a lot and the whole environment was much more cosy there than it is in Helsinki (not that we don't like it here but Finnish people are sometimes a bit too introvert). Another really interesting fact is the huge amount of German people you stumble across; you could easily get the impression that you are in a German city.
Moreover, the food in Tallinn is just simply delicious. We've tried some of the traditional dishes like rye-bread or "Semla" and many more. We even went to the same café three times because it was just soo good (if you wondered, the name of the café is "Rukis", so if you ever visit Tallinn please go there!!). 
Here are a few things we ate there: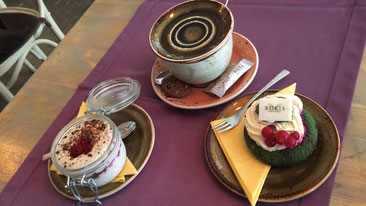 A really good bread cream (yes I know it sounds weird) and a profiterole, for which the café and Tallinn in general are famous for. 
Overall, we can really recommend to travel to Tallinn since it is an adorable little city that, despite its relatively small size, has a lot to offer. Further, you can easily see almost everything in one day so maybe on your next short trip you might end up in Tallinn?