As you all might know, Finnish is a really tough language to learn and we've experienced that in a very interesting way. Since we live on our own we also have to cook by ourselves and therefore go grocery shopping, which might seem fun at first sight (for us at least) but turned out to be quite a challenge. 
On our first day we went straight into a nearby supermarket to buy some food and other stuff necessary for survival but as soon as we got there we had lots of fun figuring out what exactly the products we wanted to buy are! You couldn't even guess what the products are besides from their looks and we didn't try to ask anyone what kananmuna (which is by the way an egg) means because we were seriously scared of breaking our tongue in the process of trying to pronounce it! 
You might think in times of Google Translate it would be no problem to translate the terms but I guess we all know the liability of it (on our washing machine the term for "Handwäsche" turned out to be "Verführung" – that's what I mean). The main problem then was not to find the products but to decide on which to buy since we couldn't compare them according to their ingredients or tiny differences especially when there're 20 different bottles of milk in a shelf. Further, as in Austria you have to weigh fruits and vegetables, but how should you weigh something if don't know which number fits which product? Somehow we managed it, but it could easily be the case that we bought some bananas for the price of apples and the sales guy almost lay on the floor because he had to laugh so hard.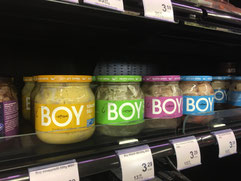 Besides of all the troubles we had going grocery shopping is quite fun, since you can find so many different products that you will not find in Austria. You can get everything made out of fish like pickled fish or spread.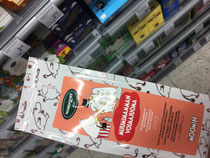 Or Moomins. Moomins are characters of a very popular children show in Finland (even a friend's child of our colleague is named after one of them) and they are printed on all kind of food like tea, cookies, jam, coffee, … To be honest we've bought ourselves a few things of them just because they are simply the cutest creatures on earth.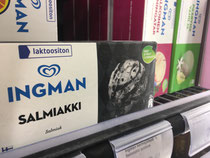 And not to forget: liquorice – ice cream, chocolate, drinks, cookies, pastries, cheese – it is just in almost everything! The only problem: In our opinion it doesn't even taste good!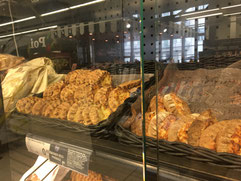 Further we've tried out so many new things for example the "Karelian Piroges" which basically is bread filled with rice, reindeer meat balls, cinnamon buns, salty butter (we were forced to try that since there's no other butter available), different types of chocolate from the brands "Marabou" and "Karl Fazer", which are both very popular and soo good, and of course a really interesting type of yoghurt which has the texture of glue.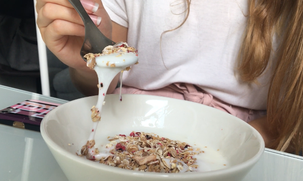 Now that we've been here for over three weeks it isn't that adventurous anymore but it is still a fun activity and we discover something new every single time.