My first alarm on my mobile phone rang at 6:00 am British time! I´ve turned that off. 3:45 hours remaining till the meeting.
The second alarm went off at 7:00 am British time. I turned that one off again. Thoughts: Ahh, you´ve got enough time left. 2:45 hours remaining till the meeting.
At school we heard a lot about punctuality at important meetings and I always thought that if I had an important meeting I'd never arrive too late.
It was a Monday it was 9:00 am British Time when I woke up. 45 minutes remaining till the meeting was arranged. I nearly had a stroke and a heart attack at the same time or "Schlagal" as one says in Austria. Within 10 minutes I brushed my teeth, did my hair, had breakfast and put my clothes on. Within half an hour I had to get from one door to the other covering a distance of around 12 km (source: google maps).
With the velocity of Usain Bolt I rushed to the Underground Station and made it in a world record manner punctually to the meeting.
There the polite woman Elisa went with me through all the important things which have to be regarded in order to be able to work in the UK
·         Social Insurance Number
·         British Phone Number
·         British Bank Account
Better not text me on my British phone number, even though the battery of the phone lasts for ages.
She also explained me the job finding process:
One receives a message at around 12 o'clock am stating the address, the position applied for, the time and the contact person for the job interview.
I´m really looking forward to receiving a message in one of the next days and I´m really excited about the job interview. That's where my experience really started.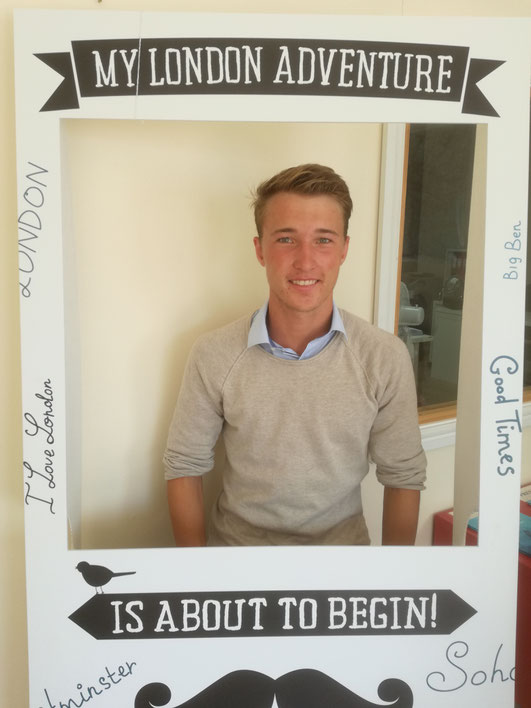 When and where will my job interview be? Which position will I apply for then?
I hope you are as keen on knowing that as I am.
Hear you soon
Michael
Useful information for copycats: ;)
If you also want to work or live in the UK some time maybe this information could be useful:
·         For creating a British bank account us the App Monese. You can register within 10 minutes and you only need your passport, another official document and your mobile phone.
·         Bring a second phone with you to be able to insert you British SIM-Card in order to have two separate phones, one British and one with the number of your home country, which can be very useful while living here.