Since it was way too hot in Seville this past Sunday (43° Celsius!!), we (Sarah, Jenny, Silvio and David) decided to go there and spend our day at the beach. Unfortunately, it was still very hot (34° Celsius), but the ocean breeze made it easier to breathe.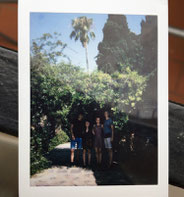 After arriving at the train station we walked to the old town for about 30 minutes, which honestly felt like three hours. Then we visited the Santa Iglesia Catedral Basílica de la Encarnación, known for only having one tower instead of two, and decided NOT to stay for the mass. Instead, we walked up to the Alcazaba castle and looked for the perfect place to take a Polaroid picture.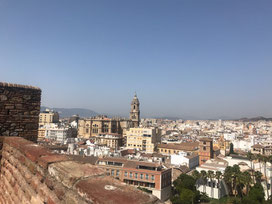 Hungry and exhausted from our 30 minute castle visit, which honestly felt like three hours, we convinced Silvio to break the Spanish law and eat lunch at 12:30 (tapas of course!). The boys, motivated by the ticket price of 2,50 € that they had already paid for entering the Alcazaba AND the Gibralfaro, really wanted to walk up this high hill, while the girls were in the mood for shopping, after they had seen various Victoria's Secret bags.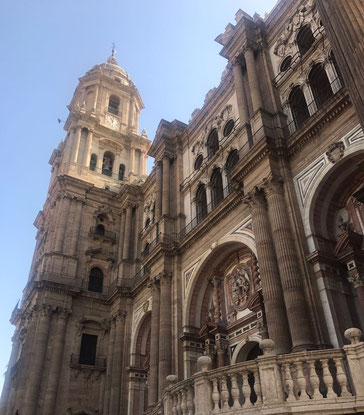 Soon after, we went to several souvenir shops in order to tick another box on our to-do-list and reunited with the boys an hour later to start our next trip: VAMOS A LA PLAYA, A MÍ ME GUSTA BAILAR … It took forever to find the right bus, because David is an idiot (just kidding) and could not remember which bus stop to go to.
Finally, we arrived at the beach and found an empty spot. The sand was really hot (100° Celsius) and there were red jellyfish all over the place. After melting there for one hour, which honestly felt like three hours, we decided to leave early and stop at KFC on our way home.
When we arrived in Seville (38° Celsius) we were not able to breathe, but as you can see: we are sitting here in our room writing this blog and being totally excited about our first day at the Samay Hostel on Wednesday. If you want to know how it goes, read our next blog post.