Oh boy it's been quite some time, hasn't it my dear readership, but your favourite blog-poster has returned! Animated by the typical early eagerness of arrivals Jenny and Sarah to write blogs I have now also decided to fulfil my duty once again and tell you a little about our daytrip to Tarifa.
It was as usual quite a hurry to catch the right bus to go to our targeted destination and to be honest I am going to spare you the typical blog-entry-introduction and cut right to the chase. 
So we arrived in Tarifa at around half past 12, having approx. 5 hours to explore the place before our bus back to Sevilla left at around 5 pm. Therefore we headed straight for the straight (poetic I know) and found ourselves at the most southern point of Europe, Tarifa, the nothern end of the Gibraltar-straight.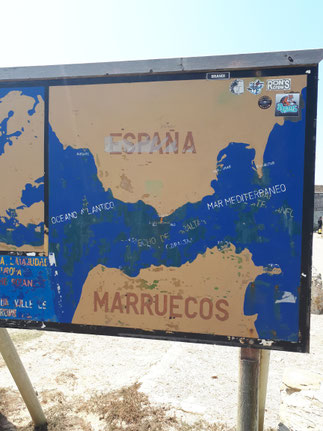 Then we proceeded to visit the local castle (as there is one in almost every city in Andalucía) and found a surprisingly enticing, (at least for me that is), little museum about the history of Tarifa and the castle.
It wouldn't be one of my blogs if I didn't turn it into a history-lesson but this time I'm going to keep it short.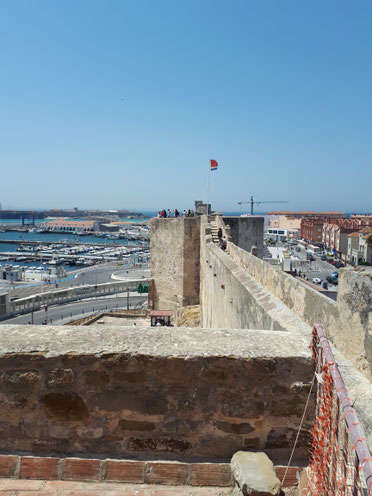 Originally founded by early Romans in the 2nd millenium BC it was then taken over by the Musulmans and later by the Christians in the Reconquista (what a surprise). But the interesting part is the story of the owner, a certain Guzman el Bueno, or Guzman the good, who was was once besieged by his muslim attackers who had captured his son to make him surrender. What they didn't know is that this heartless monster of a man preferred to sacrifice his own son to surrendering the castle literally throwing a dagger down to the besiegers with which they could kill his son as a sign of his will to endure. 
Long story short, the muslims gave up and he was given the nickname Guzman el Bueno (Totally deserved. Great guy. Trust me. Killed his own son but otherwise great guy I'm sure).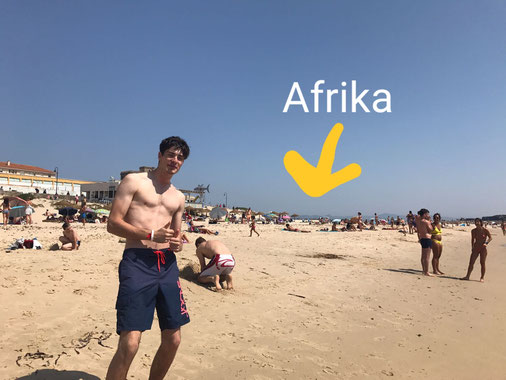 After a short stop to get pizza we finally went to the beach where we were, again, pleasantly surprised by the quality. Surely an extreme improvement to the beach we had gone to in Málaga, as this one was not too hot nor were there any "Medusas" in Spanish or painful jellyfish in English.
I even got to take a picture with me and Africa in the background. (Not quite as spectacular as I had hoped it would be)
After an eventful day it was then time to go home and ultimately write this blog. 
Tarifa
Qué te pasa estimado lector de esta entrada, ha sido bastante tiempo desde hace cuando escribí un blog, verdad?. 
Pues ahora he vuelto para hacer esta misma cosa y satisfacer tu hambre de más producciónes de tu autor preferido de bloges, David.  
Nuestro pequeño viaje al punto más del sur de Europa empezó tal cual como han empezado todos los otros viajes y por eso te voy a ahorrar los detalles del viaje en autobús porque con franqueza es simplemente aburrido escribir lo mismo cada vez. 
Pues llegamos a Tarifa approx. a las 12 y media, dándonos unos 5 horas hasta que llegara nuestro autobús para regresar a Sevilla. 
Primer decidimos (obviamente) a visitar el punto más en el sur de Europa y lo casi logramos pero apenas llegamos allí un letrero nos informó de que no pudimos pasar más porque el resto era territorio de la policía. 
Después de esta pequena decepción nos fuimos al castillo de Tarifa. Primero un poquito de historia, fue fundada la cuidad por los romanos y luego ocupada por los musolmanos hasta que los cristianos la "libreraran". Pero esto literalmente podría ser la historia de cualquier cuidad en Andalucía. 
Por eso te contaré también sobre el dueño del castillo un caballo llamado Guzman el Bueno y para mí es un misterio porque le han llamado así por razones que voy a explicar ahora. 
Este hombre fue asediado por el ejército de los musolmanos y ellos querían que aceptara la derrota, pero el no lo hizo y por lo tanto capturan su hijo para que por fin abandonara el castillo. 
Pero el lanzó una daga desde el castillo a los trupos que le asediaban por que quería mostrarles que no tenía ningun deseo de abondanar su fortaleza. Finalmente se retiraron los arabés y el caballo Guzman fue dado el título "el bueno". Por haber matado su hijo. Me encanta la Edad Media. 
Entonces a la playa. Fue la primera vez que podía banarme en dos mares en un día, por un lado el Atlántico y por otro lado el Mediterraneo. Incluso saqué una foto de mí y en fondo el continente de Africa. Pero la foto no salió como lo hubiera esperado. 
Total que se ha merecido ir a Tarifa y tuviera la oportunidad lo haría otra vez.