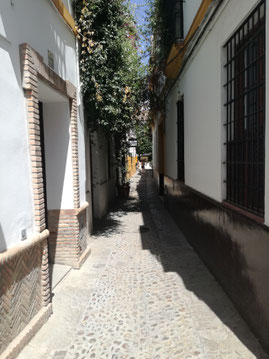 Since my arrival in Sevilla was almost two weeks ago, I guess it is about time for me to write my first blog entry. It is about midnight and I am currently sitting on the bed in my room, listening to classical music and the sound of the fan which is creating an acceptable climate in here. Jenny and Sarah are sleeping next door but I do not really feel tired (which might be the result of my siesta from 4 to 7 o'clock) although I am afraid that it would be wise to get some sleep tonight because I have to get up early tomorrow…
However, let's start at the beginning: My journey started on Thursday, August 2nd. I will not bore you with any travel details, apart from the crew responsible for loading the suitcases onto the plane in Frankfurt which needed a full hour for that after the boarding was completed, it was just a usual flight. As I already knew my host family from our school trip to Sevilla last year, I was not surprised by their kindness and candour. The next day I had to roll out the red carpet for Jenny's and Sarah's arrival. 
You might know already about the following weekend, because it is covered in Dave's blog post about the Reales Alcázares and Sarah's & Jenny's post about Málaga. Unfortunately, that was the only weekend the four of us had together, because I am the only one who does not have to work on weekends. Therefore, the previous weekend was way less spectacular. On both Saturday and Sunday I got up, had breakfast and wandered slowly through the narrow and always shadowy alleys of the historic parts of the city, stopped at a cosy square and drank a lemonade, simply enjoying how great this city is! The woman from Oneco who went with me to my first day of work (I will come to that soon enough) who is originally German herself said that it happens quite frequently that some interns coming to Sevilla fall in love with the town (or fall in love otherwise 😉) and then stay (or return later to stay). Although that will definitely not happen to me, I know exactly what she means. On Sunday I also participated in a mass in the beautiful church Santa Maria de la Blanca. Although I barely understood anything except for "En el nombre del padre y del hijo y del espíritu santo", I liked it.
As promised, I will now talk about work: I work at The Salmon Factor, which is a consulting and marketing company. Last Monday I was introduced there by the woman mentioned above, who did a great job in negotiating my working hours. While the acting boss (is that a valid term? I only know the term "acting president" from house of cards... however, the real boss was and still is on holiday, he is going to return next week) was still thinking I do not speak Spanish I was listening to him and the woman from Oneco as he proposed a working day from 8 to 4 o'clock which she changed to 9:15 until 2:30 stating that I am only here six weeks and I want to do something else too. After that (and telling the acting boss that I do understand Spanish) I was free to go and really started working on Tuesday. One sentence about my colleagues: It works just fine, all of them are very friendly and help me whenever I have a question or a problem. The work itself is really challenging! Right after I got there I was briefly introduced to what we are doing. Currently we are setting up a new organisation and my first task was to do a detailed social media research about its competitors using Facebook, Twitter, Instagram, YouTube, LinkedIn and Google+. Trying to figure out what contents they were posting and writing a summary about it was hard enough (because obviously everything was in Spanish) and sometimes my superior told me to move on and did it herself when it took me too long. Once I finished that (on Thursday) I was shown another type of work which sounds brilliant but rather scared me off. What I am talking about is that we are also doing the quality control for Rakuten TV (if you don't know, that is an online streaming service, like Netflix), which means that we need to watch all of their movies and series and look for errors. The part that made me suspicious was that we – of course – do not watch the entire movie but just five minutes of it so spent the entire Friday watching movies without actually seeing one (I even got spoilered 🤯 because I had to watch the end of every film too). Luckily, because my expectations of this task were very low I was surprised positively – it is still watching movies. My next task – on Monday – was to think of short texts we can publish along with an image and a link on social media for the same company I already did the research for. I should have thought of ten but I really could not do any more than four so I finally had to watch movies again. I could think of worse methods of punishment. 
Today (or should I say yesterday, it is half past two by now; let's just say on Tuesday (for Christ's sake, you really know something went wrong with your life when you are awake at this time, writing a blog and listening to a sung version of "The Erlking")) I had to read an extensive manuscript about social media marketing (my heart started beating faster when I stumbled upon a perfect example of a SWOT-analysis, exactly as we did it in business studies) which I will now need to write a 900-word article about search engine optimisation again in Spanish, of course (for comparison, that is a bit shorter than this blog entry). I think I will look through the KOMMA files on LMS hoping to find useful information there which I can then translate into Spanish. Luckily, I do not need to go to work tomorrow (today) because we are celebrating the Assumption of the Blessed Virgin Mary, just as in Austria. As I am a master of references I have already given you a hint in the very first paragraph that this does not mean I can stay in bed all day because we are going to participate in a procession which starts at half past seven, meaning in five hours. Yeah, I should really sleep now. You will hear from me again…
Best wishes,
Silvio