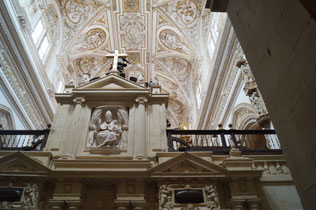 Last Thursday Jenny and I decided to go to a city that a bunch of different people recommended to us: Córdoba.
Since we are always tired and trying to travel on a low budget we took the cheapest train at 13:30 from Seville to Córdoba. As we arrived at the local train station we were already starving and I immediately regret wearing a long sleeved jumpsuit because it was just as hot as in Seville (38° C - we usually don't go anywhere because of the heat). We got closer to the city center and sat down in one of the first restaurants we saw. After we satisfied our hunger we finally decided to go and explore this magical town.
Our first stop was obviously the mezquita. It is a giant - really GIANT - church/mosque that was originally built in 784 and reformed and enlarged multiple times over the following centuries. It was used as a mosque until Córdoba was reconquered by the Christians in 1236. From that time on it has been used as a church and more and more Christian elements were added over time. The fundaments are still from the mosque and partially even from the time of the Romans for example the hundreds of pillars.
After our really long visit to this breathtaking building we wanted to take a walk up the tower of it. Sadly we found that it was only open until 2:30 but by that time it was long after 4. A little disappointed we decided to take a walk over the beautiful "Puente Romano" and found a nice looking little museum in the tower on the other side of it.
Since we didn't have anything better to do we took a closer look at the history of Moors in Andalusia and we didn't regret our choice. Jenny chose a Spanish guide and I took an English one and we switched halfway through the museum so we could fill in the gaps for the one who listened to it in Spanish.
In the museum we found out that there was something called Alcázar de los Reyes Christianos which is basically a beautiful castle with an even more amazing garden. Since we only had two hours left in Córdoba we figured a walk there would be a great ending to our day. Well, nobody told us that tourist attractions close at 2:30 in Spain. Sometimes it seems like they don't even want to make money with tourism. Anyway, we couldn't visit the castle and just spent the rest of our time walking through the streets and looking inside tourist stores in Córdoba. 
Sarah and Jenny