12th September, is to some people known as a Wednesday, but to others it's the day after 9/11. What only the wisest and most advanced individuals on this planet know is that that day is the birthday of a legacy, a hero and the most ambitious food project ever committed to in human history. Prepare yourself to witness, no become part of, the legendary tales of Silvio Junger and the almighty Snackoles.

It all started a normal day in Seville with Silvio working at his part time job as CEO of the Spanish stock market. It was a sunny day just as usual, which made the lunch he was about to enjoy with his friend Manu from the old days, who got a job at the docks of Seville, a perfect fit. But before he could leave he had to get some small work finished, so he ordered: "Balthi! Invest everything in coal, that stuff is the future!" "Great choice, boss! " came back the reply.

Twenty minutes later the friends met at a little restaurant close to the old part of Seville. The waiter named Ezequiel offered them a round of UNO, but the two had to turn down the offer and promised to do so after lunch. The first thing that caught Silvio's attention was a scar on Manu's neck. Because of Silvio's interrogating look Manu immediately said: "The scar? Well you know how it is down at the docks, some die some get away with a scar." Silvio furiously replied: "Don't you dare lie to me like that. That was no rat, nor a piranha." "Alright calm down, I got bitten by a radioactive cupcake." Came the response from Manu, "I feel the strongest I've ever been, I can sense cheap and good food deals from miles away, I feel like the food tries to communicate with me. Honestly I haven't slept in weeks. I just keep hearing these weird voices screaming "Snackoles" over and over again. Please, I need your help, make it stop!"
Everything Manu had said until that point seemed very logical, so Silvio decided to help him. That Wednesday, or as people in Spain would say Miércoles, a new superhero was born. Maybe not the one we deserve nor the one we need, but the most average of them all.

The two friends started their project the next Wednesday. Now what was their quest you might ask? Well over the month these two had the chance to explore almost every part of the city and therefore had quite some idea of where to get the most amazing deals on only the finest and tastiest delights Seville had to offer.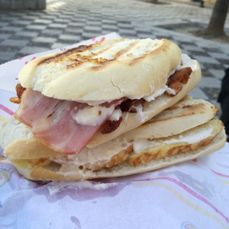 The day started off with a Bocadillo from a local bakery, which is basically bread filled with Spanish goodness. In Silvio's case it was a mix of schnitzel, cheese, jamón and aglio olio. Manu's Spanish sandwich was put together with tortilla de patatas (if you don't know what that is, shame on you) and also aglio olio as sauce.
On a scale from 1-10, with one being best and 10 worst, Silvio rated this with "sehr gut". Manu on the other hand rated it with "sehr lecker".
After a quick break the adventure continued at a confectionery, with an "everything sweet for €1 on Wednesdays" offer where each consumed two cupcakes.  In Silvio's case one strange red one and one with brittle topping; for Manu, Oreo and Twix. These were extremely delicious, which could be traced back to a lot of sugar and fat, but we don't want to jump to any conclusions here so let's just stay with delicious. Because of the spottieottiedopaliscious flavour Silvio rated these with "hervorragend" and Manu with "übertrieben geil".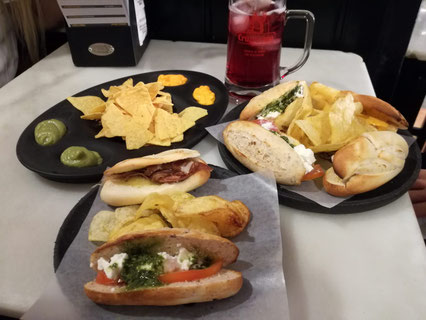 The last food related stop was a "100 montaditos", which is a fast food chain selling small rolls of breads filled with Spanish originals. Kind of like Bocadillos, but smaller. In addition to their main concept they also offer Nachos, a variety of drinks and some muffins and other sweeties for desert. Manu chose the infamous 21 (tortilla de patata) and 28 (mozzarella cheese with tomatoes and pesto), a wine/sodaish beverage and also some Nachos with guacamole and cheese. Silvio's decision ended up to be a number 28 and one filled with jamón and cheese. Now they've been there before, but on Wednesdays instead of €1.20/p you only pay 1€/p, which makes the food taste even better. Overall Silvio gave the experience a "vorzüglich" and Manu a "ein Schmaus für die ganze Familie."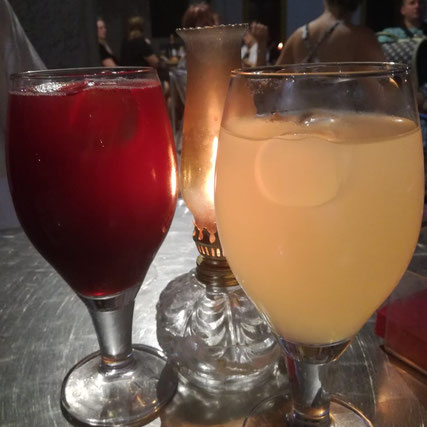 The last stop was a very familiar spot for the two, also known as restaurant for best Sangria in town, which had been visited quite a few times beforehand. But not only the Sangria was one of their specialities, but also the homemade lemonade had its own taste. Which is why Silvio chose the lemonade and Manu decided on the Sangria. As last ratings Silvio gave the Lemonade a "a Traum" and Manu a "Leckerbissen".
This was their last stop of honouring the holy Snackoles. It was probably one of the most fun, delicious and happiest days of their whole stay in Seville, which is why we want to dedicate this Blog to the holy Snackoles and also encourage everyone going abroad next year to take on the born tradition and just take a day off to enjoy the food/beverage culture a city like Seville has to offer.