I'm finally back home and want to take a look back on the two intensive months I had when I' spent my summer abroad. What would I change? What are my recommendations for others? What are my impressions of the city?
I want to give you feedback on my adventure regarding different aspects: language, job, city, agency, people, home, independence
language
I came to London to improve my English skills for the exams I face next year. Now I know that there are better choices for learning and improving your language skills than in London. That's because of the people who come from all over the world and can't speak English perfectly. On the other hand it is a very good practice if you hear and talk English the whole time while living there. I've also learnt how to talk with hands and feet, because the chef in our restaurant only spoke Greek. Communicating was hard but possible.
job
Because of changes in staff I was given more responsibilities and evolved from a helping serving staff to a shop manager. I learnt a lot of things from the gastronomy sector and experienced how stressful that is. Especially the high quality you have to deliver, the time pressure you have and the contact with people is hard to manage. In the end it also taught me something for life: how to be a pleasant and nice customer in a restaurant.
people
The funny thing in London is that you meet people from all around the world except from English people. I only met one English person on a night-out. The people I met at work were from France, Greece, Romania, Albania and Germany, the ones I met at my accommodation were from Czech Republic and Slovakia and others were from Tunisia, the US and so on and so forth. The ones I met were really friendly and some became friends.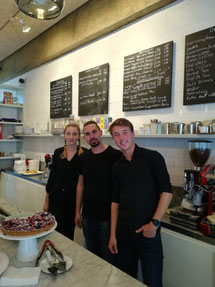 city
I come from a small village in Austria which has 5,000 inhabitants. One can imagine the big change you experience when you go to one of the biggest European cities with nearly 9 million inhabitants. There are parties and events every day around the clock.
You always see people, no matter which time or place.
You simply don't accidently meet someone. It is even hard to find someone you have arranged to meet in London because it is so big.
My impression is that people are always in a hurry there and want to save time.
Work is really demanding there, because 50 hours per week are usual in this city in the gastronomy sector so you are tired most of the time.
I think you can't tell how English people are from London, because London is something totally different.
In London and in England in general I think, the digitalisation is more advanced than in the rest of Europe. Everybody pays with cashless, watches and mobile phones.
agency 
I went to London with an agency from Germany as I told in one of my first blogs. They told me that I can do the project with Erasmus+. After a time they refused to cooperate with us and didn't fill out any documents. They didn't manage to tell me that they are just the intermediates between me and the job and accommodation agency. There was also poor support when the lady who should find me a job and pick me up from the airport didn't reply. So I wouldn't suggest going with that agency, because you can also go directly to the other agencies.
home
The accommodation in London is completely different to what we have in Austria. Thin walls, thin corridors and unkempt gardens are characteristic. My bed was terrible and all the other things were not luxurious at all. From this point of view I was glad to be back home again. But eventually you get used to the living standard and after a time you don't mind. What I didn't like about the accommodation agency was the rule that you are not allowed to bring friends with you. I think you pay for a room and that's why you should be allowed to invite friends for dinner, but this varies from agency to agency.
independence
I've never lived alone before in my life and at home my mother does a lot of things for me. The worst feeling was to go through the security check at the airport. I knew that I was all on my own now. All the things you have to do in a normal life like cooking, cleaning and washing were pretty new to me. That was an amazing feeling to be able to survive on your own and gives you independence to go wherever you want to.
In my opinion you have to or must take the chance and possibility to go abroad with the support of the EU. Even if you go with a friend it will bring you forward as a personality. The good thing about being alone is that you have to talk to new people and make new friends if you don't want to be alone. The bad thing is that you are really alone in the beginning and you also don't have anyone to talk with. I started becoming like the old people who call the radio to have someone to talk to.
Before I went abroad everybody told me that I would be a different person when I come back. I don't think that way. but I think that I see some things differently and act in another way in some situations.
Many thanks also to Mr. Crewe. He was the one who persuaded me to go abroad and he put so much effort into this project. All of that is unpaid and he only does that for giving students opportunities. Thank you!
Thank you for reading and following my blog and maybe we'll hear from each other next summer!
See you
Michael