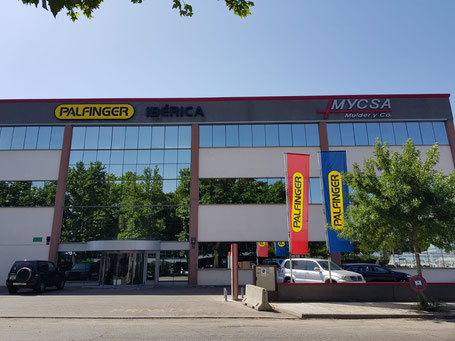 On the 1st of July I had my first day of work at Palfinger Ibérica. I had to be at the office at 9 a.m.. School ended here 1 or 2 weeks ago and now there is a different timetable for the bus, additionally I had no idea how bad the traffic will be in the morning. So I decided to leave already at 8 a.m. at my apartment (even though it takes me 5 minutes to the bus stop and the ride only takes 10 minutes).
Well, yeah, … I arrived in San Fernando at 8.25 already, so I had to wait… At 9 I got picked up and Mamen, the head of Human Resources introduced me to all employees of the company. At midday Mayte and I went to the social security to get my social security number.
So one can say the first day wasn't really exciting.
On my 2nd day I got picked up at the apartment and Mayte and I went to Loeches. Loeches is about 25 minutes away by car. There a two more companies of Palfinger, one Logistic center and one mounting and service center, Palfinger Elesa. It was pretty interesting to see how all the cranes are mounted or repaired.
From now on I will be working in Loeches in the office of the mounting center from Monday to Thursday for 1 month. A colleague picks me up at the apartment and brings me home again in the evening. What a service. On Friday I will be working in San Fernando de Henares (the office I went to on the 1st day).
Two employees in Loeches speak fluently German, one of them is Estrella, who is responsible for me. It helps a lot because in the first two weeks she can explain all my tasks to me in German, so that I really understand what I have to do. Then she will be on vacation for two weeks. In those two weeks I will be her "temporary replacement" and do most of her tasks.
On Thursday one employee asked me if I wanted to test a crane with an access platform with him. Of course, I said yes. The crane could go up to 70m, so we could see quite far, and we also had a nice view on our office and mounting center from above.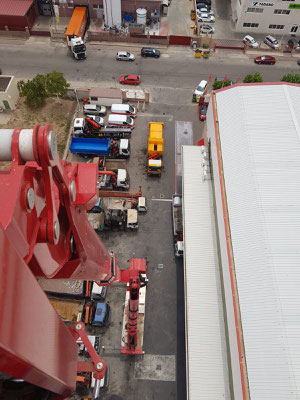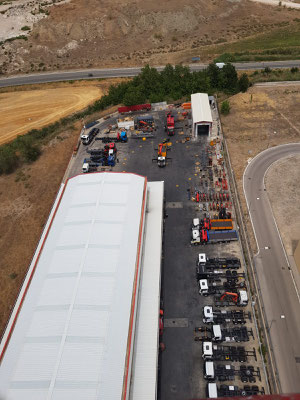 In general, I can say, all my colleagues are really kind and patient with me if at first I didn't understand what they said and they would explain it to me in English. There is a very pleasant working atmosphere and I am really happy to get the chance to do my internship here in Spain for 5 more weeks.
Jana