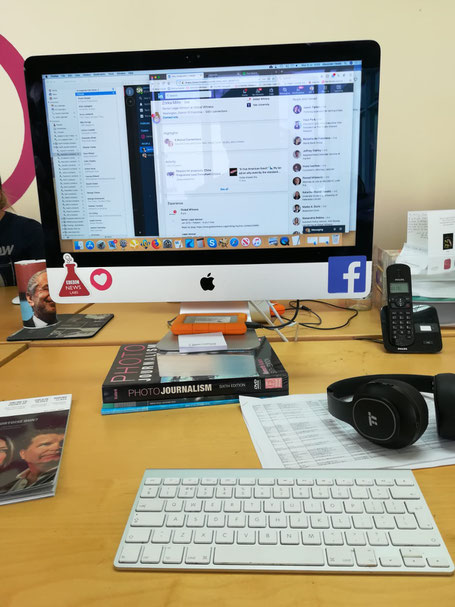 It's my second blog entry now and there is already a big twist in it haha. If you have read my first blog entry you probably noticed that I wasn't too happy with my tasks and to be honest with everything. It was Tuesday (so the second day of work) when I decided to get in touch with Stages which is the agency that organised pretty much everything for us. I explained to them why I don't enjoy my work and after a couple of E-mails and a brief meeting they managed to get me a really cool new workplace.
I really want to stress on how satisfied I am with the agency's attitude — it was nice to hear that they want to help us in order to enable us the best possible experience, but particularly my case is a great example that they actually walk the talk, so big props to Stages.
(Back to the workplace)
So Friday was my first day at journalism.co.uk which is a digital a newspaper (check it out if you
want, it's quite interesting). Already the first impression was great — modern office, enough space and super friendly people. Now I have my own MAC (Apple Computer) and interesting tasks like the following:
Tasks
My first task was to design tokens for free drinks because journalism.co.uk was host of a networking event in London (I'll talk more about that in a second) I had to use Canva which is a programme made for designing things — I was not familiar with it but it turned out to be quite user-friendly.
Another thing I am responsible for is to "organise" their database. For example there are several new clients that have not been added so amongst other tasks where e.g. linkedIn is involved it's my job to do that.
The task I enjoyed most yet was the work with twitter. As journalism is a digital newspaper twitter is quite important for them as they publish a lot via twitter. I simply had to select a suitable thumbnail which encourages users to click on the article (e.g. with memes, gifs, designed templates, ...)
Right now it's my 4th day and I notice that my colleagues are pretty satisfied with my work, so I guess the longer I'll be with them, the more promising and challenging the tasks will become.
Now we come to the interesting part
As I've just mentioned before, Journalism was host of an event in London... and they asked me if I'd like to join them; I've to admit that in the beginning I thought like meh it will last at least until 9pm and then I'd have to go back to Brighton by train.... But now I'm so glad that I said yes.
Just to give you a brief idea of what the event was about: several people were invited that were eighter journalists, entrepreneurs or simply students. The intention was to get them to network, make contacts and yeah just have a cool time. Drinks were free (ah forgot to mention... keenly they even paid my train ticket) so it was a pretty nice vibe during the whole event.
In my opinion joining my colleagues to London had 2 big benefits.
1. As we were traveling by train and then spent the whole day together we had plenty of time to chat a little about ourselves so we got to know each other better and generally speaking it enabled us to have a more friendly based atmosphere. (Drinking a couple of beers with you colleagues really helps to talk about things you wouldn't normally talk about haha)
 2. As it was all about networking I also met a lot of interesting people and I was even talking about a potential internship next year. During the event I noticed "socialising" is really a SKILL that you have to develop and not something you were born with — and I am not a shy person at all. Even though it was sometimes a little difficult for me to understand everything because it was so loud I was quite impressed by myself how good you can actually communicate and small talk with somebody you don't know — in a foreign language (... and while being a little drunk)
OK that was a lot of input so summarising:
I'm happy that I could already change my job on last Friday and that I now have a really cool job where I'll certainly have a great time. London was amazing and definitely an experience that will help me someday. Let's see what the future holds.
(Probably my next blog will be about the difference between Brighton and Salzburg — I don't know yet...... Yeah so stay tuned!)
Let's rock!
Stef