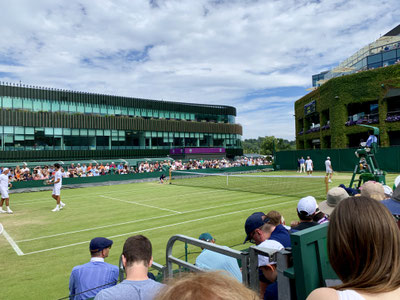 The Wimbledon Experience
When I hear about Wimbledon I immediately think of clean white dresses, green grass courts and the best tennis players in the world. As I can say now – it is absolutely like that.
We (my boss Michael, Annika – a friend of mine and I) arrived at the "All England lawn Tennis and Croquet club" at 8:30 in the morning and started queueing for our tickets. The queue in Wimbledon is one of the most organized ones in the world, that's why everybody arriving there immediately receives a number. Without this number we would not have got in later. After four long hours we finally were called out to be the next ones getting in. Even the walk into Wimbledon is very prestigious: e.g. we came across speakers playing winning speeches from former winners – very impressive!
When we finally got in at 12:30 Annika and I went straight to where the players access and leave the training courts. That was because it turned out that Rafael Nadal (one of the greatest tennis players of all time) apparently hit a few balls there. Unfortunately, his practice session took longer than usual and we had to wait an hour for him to show up. In the end it was still worth it because I got lots of pictures with players and an autograph of – Rafael Nadal.
Very delighted and super-happy we went to watch some live matches. The venue comprises 18 courts of which we could access 15. That was why we at first couldn't decide where to go. Finally, we chose to watch a doubles match which turned out to be extremely thrilling.
According to the motto "treat yourself" I went to a merchandise shop after the match and got myself one of the Wimbledon 2019 towels.
As the time passed by quickly and Annika and I wanted to watch a singles match too we went to Court 3. There we were able to see Verdasco beating Fabbiano in three sets. It was a cool match and the atmosphere was absolutely stunning. After this we left the venue and headed back to Brighton by car.
Summing up this definitely was a day to remember. Being able to get so close to the best tennis players in the world was a unique experience. I loved the atmosphere and the prestige of the tournament. Therefore, I would suggest anybody who is only even slightly into tennis to pay this event a visit.
Daniel Zettl