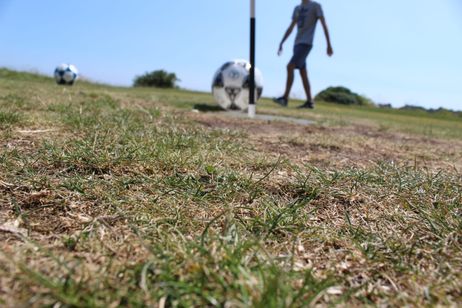 Footgolf... I've never heard of it and I guess you neither and that's why I'm so thrilled about my work at Brighton Footgolf.
Football and golf: Two sports so different yet so similar. The main aim of these two games is to get a ball into a goal or hole.

Footgolf is an urban fusion combining the more traditional game of golf with a twist of football. It is played on a golf course and the challenge is to putt the football into oversized holes.
I can tell that playing Footgolf is a totally new experience, not just that it's easy, but also a good opportunity to get to know each other better. Whether playing it with family and friends or with total strangers, footgolf is great fun. After just some minutes of being on the court I got to know new mates I've never met before.
But how do you play it? It's easier than thought: It's like golf, just different. Kick a football in as few shots as possible to putt it in. That's it. It doesn't matter if someone fails a shot or two, it's important to laugh at it afterwards. Sometimes it's just bad luck but still a great laugh.
While everybody is talking about their boring weekends, you can tell them how you meet new people while kicking a football on a golf course with a stunning view.
Annika