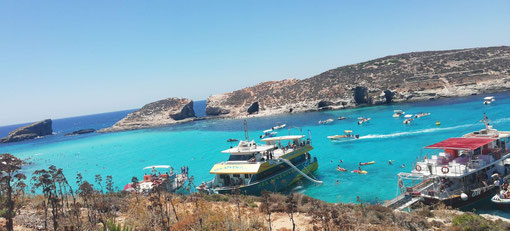 As already mentioned at the end of my first blog I started work on Tuesday. The company I work in is named "Zarb Coaches". It is a transport company and not far away from my apartment, which is quite nice. Usually I had to be at my workplace at 10 a.m. but because it was the first day I used to be there by 9 a.m. As I got into the office of the company, my mentor was already waiting for me. She told me that I could start work immediately, and so I did. She also offered me a laptop which I should use for my work. I was hoping that my work will be demanding, but the first tasks I had to do were exactly the opposite of it. But I wasn´t to depressed because the weekend was just around the corner and so I was still hoping that work will get more challenging next week.

On Friday I met with my friends at their place. We enjoyed the evening and did some planning for the upcoming boat tour. On Saturday we went to the harbour of Sliema where our boat tour to the other two Maltese islands Gozo and Comino started. The tour began at 10 a.m. when the boat left the harbour in direction Gozo where some people left the boat to visit the Island of Gozo while we were staying on the boat. Our next stop was St. Mary´s Bay, where we had the opportunity to jump into the sea for an hour. The Bay is a beautiful place with wonderful blue water, but it wasn´t the most beautiful place on our trip, it got even better by our next stop: The Blue Lagoon!
The Blue Lagoon is not far away from St. Mary´s Bay between the island Comino and the little rock Cominotto. It is a popular attraction for tourists in Malta, which explains that this place was so overcrowded. Luckily we found a place where rather few people were and so we had the opportunity to get into this beautiful blue water. We got back to Sliema at 5 p.m. and spent the rest of the evening with some shopping and then went back to our apartment. Sunday was really lazy: we slept long and stayed in our apartment most of the time. In the evening we did a short walk and explored our neighbourhood.
The new week started better than last week ended because finally my mentor gave me some challenging work which made work more enjoyable. As I am now for over a week in this company I became quite familiar with all the things. My colleagues are friendly and take care of me. They help me if I have some problems and the most important thing is I can understand them and they can understand me.

Hope the next days will be as enjoyable as the last ones were.
Lukas