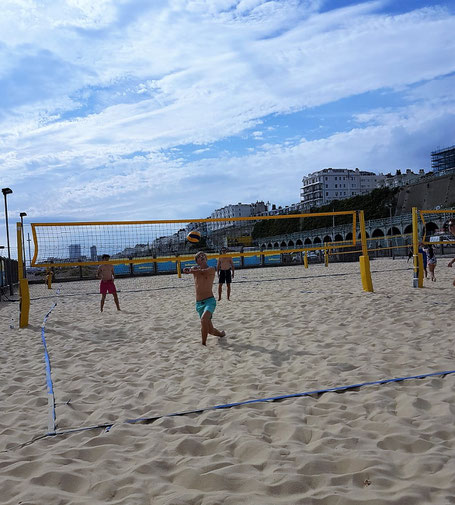 First full Weekend in Brighton 
Coming home from Wimbledon I was absolutely finished. Nevertheless, I ate at my host-family and still went out with my friends this day. We had a beer on the beach and went to a bar later which was very cool.
Due to being completely bashed when we came home the night before, Stefan and I slept until 11am the next morning. After eating breakfast, we then decided to grab our swimming trunks and go to the beach again. We played some volleyball and went for a refreshing swim – really refreshing! The sea has around 17°C here so it is definitely not comparable to jumping into an Austrian lake in the summer.
Saturday evening, we headed to the beach again and went to a night club afterwards. All in all, it was a fantastic night. You can probably imagine, Sunday was rather a day to forget about. We slept until 12 and spent the whole day relaxing and doing nothing at all.
Second week at work
My second week at work started off with exciting news. Monday afternoon I was allowed to join a meeting in which Now! Charity was assessed whether they qualify for funding from a foundation or not. The meeting took place in Eastbourne which is why Michael took me there in his car. Although I obviously couldn't take part in the conversation it was still very interesting to watch how such a meeting looks like.
Tuesday was an early start for me. Again, it was time for a "Creative Café" – this time in the secondary school in Lewes. Overall the event was very exciting and I had a lot of fun talking to the students there.
The rest of the week was mainly office-based but still exciting. I was able to give my creativity full scope whilst creating Facebook posts with Canva (application for creating graphics). Moreover, Bernie, a volunteer at Now! Charity showed Ryan (the other intern at the charity) and me how to refurnish old items that have been donated to the company.