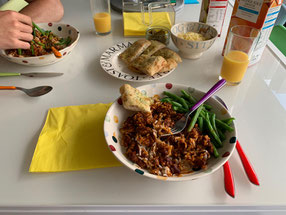 Blog time.
I've already talked a little about our family in my first blog, but now I've decided to dedicate them their very own blog entry (…what a pleasure)
Food
To be honest I was a little worried about food in the beginning. That's not because I am picky or anything like that but it's because Hellen (mother) and Ella (sister) both claimed that they can't cook at all — and the first days it actually seemed like that. It is not like that the food was bad or anything, it was just deep frozen pizza or lasagna, so I thought well, that's what it's gonna be the next weeks. Fortunately, that has not been the case. I think it was the 4th day or so when Hellen asked us to write down some things we would enjoy eating. The truth is we were not feeling too comfortable writing down our wishes as we knew it ain't no restaurant — Nevertheless we still did it because they said that for them it's obviously quite impossible to know what we really wanna eat. From that moment onwards food has become and I really mean it like that: delicious. From curry to lasagne to pasta to beef… always with vegetables or salad — we can't complain at all!
One thing that summarises the whole food topic is the following comparison:
Our host family is like Google: They try to find out what we like and what we dislike and then only provide us with the "right" things.
That's pretty cool in my opinion but Daniel and I have to be careful because even if we enjoy the food but are simply not hungry enough it is possible that we won't have this dish any more haha.
House
If I recall correctly I've already said that we live in a rather big and very modern house. Luckily our own bathroom was finished in the first week and it's even next to our room — One thing amongst others we definitely can't take for granted. 
After a few days Daniel and I finally found ourselves comfortable enough to just chill on the couch in the living room and watch some Netflix — That turned out to be our hangover routine as well. Speaking of hangover, it's quite cool that Ella recommends us where to do party every now and then and they both more or less encourage us to go out and wish us great fun and a solid hangover haha.
Seven/Sven
Don't be confused, I've simply just noticed that I had't mentioned once that we also have a dog. She is only a puppy (something about 6 months or so) and pretty cute. Sometimes we don't know how to handle her because… ya it is not always easy to figure out how to deal with a stranger dog. As far as we've experienced it she is the most interested dog haha, literally. As soon as one door opens you can already hear the 'tap tap tap' when she runs up the stairs haha — cute.
Her real name is Seven but Daniel and I have once said Sven to her because we found it was fun. From that moment everybody was just calling her Sven. This… is our legacy…haha what I am writing that's ridiculous okey never mind let's move on.
Buses
Public transport works pretty well. Almost every 10 minutes during the morning and during afternoon/late evening about every 20 minutes there is a bus heading to the city and back home. It takes about 25 minutes but can be shorter/longer depending on traffic and punctuality of the bus. The bus station is just 2 minutes away from our house, but in addition to our "main-station" we can also go by 2 other buses (The ones of Julian/Andi and Nina) where we than had to go about 5 to 10 minutes — so for me and Daniel it's pretty convenient.  
Laundry
To cut a long story short: Once a week Hellen is doing the laundry for us (we're living in paradise, I know…) and she also washes our bed linen and towels. Thanks for that familyyy
Wubsi dubsi that's the end of the blog, hope you enjoyed. Stay tuned aaaannnnd…
…Let's rock
Stef.