To begin with what was already mentioned in my previous blog is that our journey started on Saturday and the work on Monday. On our first day in the morning we met at the Stages agency to get some basic information about the internship of course, as well as free time facilities and proposals for a trip to London. Afterwards we had a little time to go home and have a rest.
The first "real" work day started at 2 pm at Sinnis International Ltd. This company is dealing with importing motorcycles as well as producing their own ones. Of course, that wasn't comparable to a normal work day as I firstly had to fill out agreements about my internship and my mentor Javier told me my tasks and responsibilities for the upcoming four weeks. The introduction phase ended with a tour through the company building including escape ways in case of an emergency.
My work at Sinnis concentrates on Finance with dealing a lot with documents but of course administrative tasks are also part of my occupation. Important to mention is that I really appreciate to have my own work place to work out my given tasks. Furthermore, the employees of Sinnis simplified the start a lot as they as they understood the language issues that occurred especially in the first few days or just gave me time to get used to their system. In my opinion it's a completely different thing to talk in English in small talk at work to making presentations in school about a specific topic as you need your basic English and do this all spontaneously without any preparation.
And now, after some time working for the company I have made progress and got more self-confidence to speak English. In addition to that, I learn a lot about the company's system and the documents and the related importance of them. Sadly this blog is coming to an end now but there will definitely be another one to keep you guys up to date.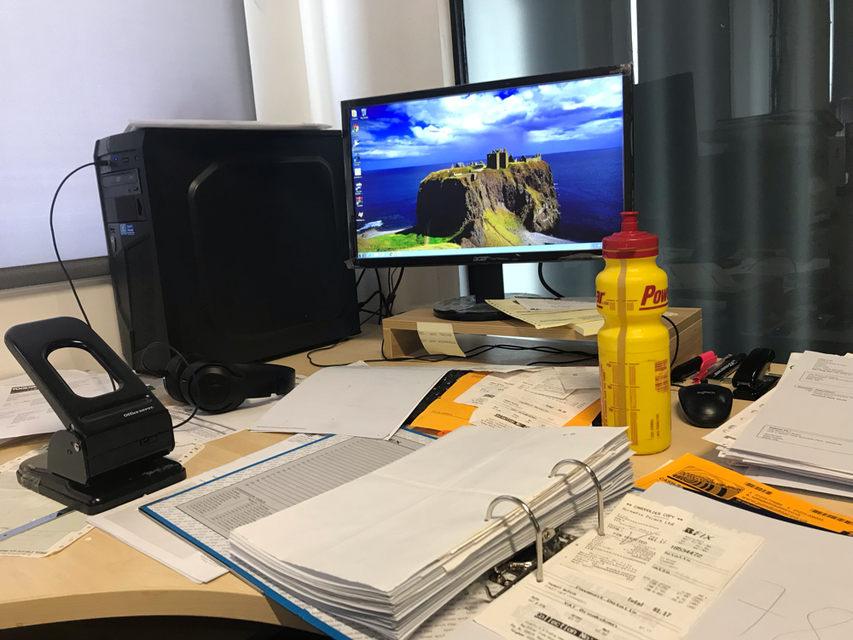 My workplace - a real mess