Since I fixed my internship back in December, I knew I want to see as much as possible in those 6 weeks. Therefore, I planned weekend trips to various cities. As I´ve been here more than 3 weeks already, I´ve had enough time to visit some other cities.
At first, I planned to go to Valencia, San Sebastian & Bilbao and Barcelona. Unfortunately, I couldn´t make it to Valencia, as going to Valencia on my first weekend already would have been too stressful. Nevertheless, I managed to take a day trip to Toledo instead.
Toledo is a small, old town near Madrid. I arrived there at around 11 a.m. and just started to walk towards the city centre. Once you´ve reached the top in the extreme heat, you had a beautiful view over. Later on, I decided just to stroll through the narrow streets the town was known for, not knowing where I would end up. Except for a lot of tourists there was not too much to see. Still, I came across the beautiful cathedral and the alcazar, which the city was famous for.
A friend of mine, who´s been to Toledo some time ago, recommended to go on the other side of the river, as you´ve got a stunning view over Toledo. And so, I did. I decided to take another, more scenic route than Google Maps proposed. After some time of walking I passed a huge building and a park with some tanks standing around. It somehow felt a little bit strange walking there, as there was not a single person around. After about ten minutes of walking on that ground, there was a fence which was impossible to get past. The only option was going back the whole way.
Well...
Soon, I saw a man walking towards me promptly, asking me a thousand questions sternly in Spanish. I couldn´t understand a word, so he finally asked me in English who I was, what I did here and how I got here. Then I realized how serious the situation was. He was from the military police and I somehow ended up on the compounds of a military academy. Not quite what I wanted. I had to follow him to an office where he had to manage some things. I had no clue what was happening as he didn´t talk to me at all, imaging the worst to happen. After about 15 minutes of waiting nervously I was allowed to leave. Luckily! 
After that small incident all I did was going home. Overall, I liked the city, but it was not really the best end to my daytrip. Actually, I had to laugh about it quite a few times now and it might be one of the best stories to tell, haha
The next weekend I went to San Sebastian. Arriving in San Sebastian after 7h hours of travelling, all I did was checking in to the hostel before I went to the beach in order to watch the sunset. Immediately I fell in love with that city. It was the most beautiful sunset I´ve ever seen.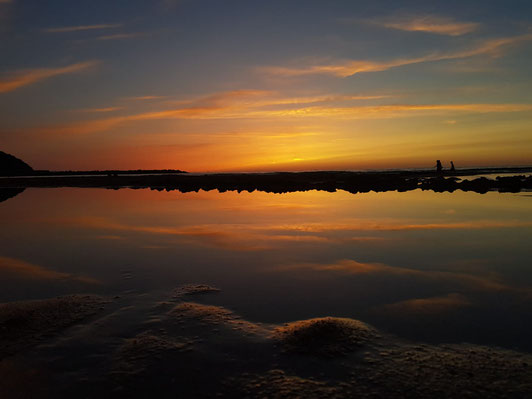 In the hostel I met new people for the first time since I´ve arrived in Spain. Two people arrived from Australia, two brothers from Great Britain and one guy from Sweden. My favourite moment was when we went to have dinner in the best restaurant in town. We waited for like 30 minutes until we could order. Meanwhile, the boys asked all the customers what they were eating to get some first impressions. Finally, when we got our food, we couldn´t find a place to sit, so we decided just to go and eat on the streets. It was so much fun and I really enjoyed being accompanied for the first time in two weeks.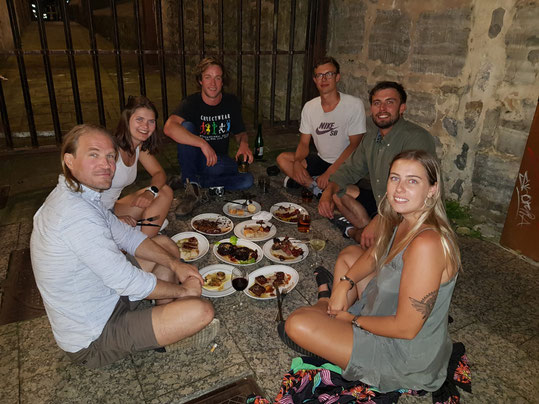 On Sunday I went to Bilbao, which is just 1.5 hours away and spent the whole day in the city admiring the extraordinary architecture of the Guggenheim Museum, the Zubizuri Bridge, and so on….
It was nice getting out of Madrid for the weekend, getting to know new people and exploring new cities. 
Stay tuned for my next blog, which will be about the visit of my family and friends, as well as a short update on my job.
Jana