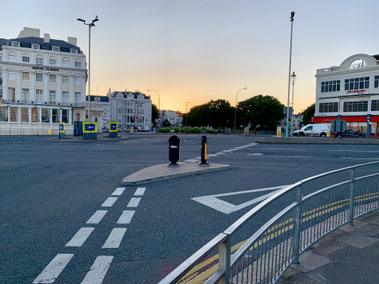 The summary of an exciting adventure
After spending almost four weeks abroad, being able to make outstanding experiences and having loads of fun it is time to summarize and reflect on what has happened.
The internship
I went into my internship at Now! Charity neither biased nor with high expectations. Actually I didn't even know what exactly I was going to do there. As it turned out – this was a good thing. I was surprised by the fact how many things I was allowed to see, do and witness. Taken as a whole, this work placement has not only helped me developing my business skills, I was also able to improve my social skills in the English language. I'm very thankful for all the possibilities that Now! Charity gave me.
Host-Family
I'm not going to go too much into detail when it comes to our host-family, as Stefan's blog pretty much describes how life is with them. What I want to state though, is that we've definitely hit a jackpot with this family. It almost felt like home and I guess that's what it's all about.
Link to Stefan's blog: https://bit.ly/2MbnNgi
Wimbledon
Even though I dedicated a whole blog to my trip to Wimbledon I still wanted to mention my experiences there in this one. It was staggering and I would've never expected a tennis tournament to be this massive.
Just in case somebody didn't read my Wimbledon blog yet: https://bit.ly/2K00OCa
London
London has always been and will always be one of my favourite cities in the world. So I was very glad that we took a day to go there and visit this impressive place. Everything there is just stunning and beautiful. It also was a good opportunity for us to meet some of our friends from Salzburg and overall we just had a great time there.
Link to my blog about London: https://bit.ly/2LCVbwY
Seven Sisters
A trip I haven't mentioned in other blogs yet is the one to the Seven Sisters Cliffs. Cliffs that stick out the sea up to a height of 253 feet (77 meters). As you can probably imagine: standing on the edge of a cliff like that instills terror in one's mind. Nevertheless we still had a more or less safe time there and obviously loads of fun.
The decision to work in Brighton
The main reason I'm dedicating an own section in this blog to Brighton is an attempt to helping next year's students.
I would consider myself as a person that loves big cities, busy people and corporate, big companies. It's definitely a dream of mine working under exactly these circumstances in the future. Therefore London sounded like the best if not the only choice of destination at first – to me. I just wanted to experience the vibe that I am looking forward to calling my everyday life one day.
But: Stefan, who I wanted to share a host family with from the beginning had a different opinion. After estimated 1000 discussions about this topic he, and Mr. Crewe's complimentary words about Stages (the agency in Brighton) convinced me to go to Brighton instead. And that Ladies and Gentlemen was probably one of the best decisions ever! As I came to realize Now! Charity is the perfect company to get as much insight into as somehow possible. It really helped me gaining knowledge about company structures abroad, and many other things.
Summing up + my opinion: If you have the same problem that I had – think about what's more important to you and your further career. Is it gaining as much insights as possible into a company, or is it gaining experience in a big city? Don't get me wrong. I don't want to judge jobs in London as I haven't experienced them myself but I'm talking from my own experience that Brighton is just a great place to be and work at.
So, that's it. Even if this has only helped one person I'd still be happy and if not so, it was still worth mentioning in my opinion.
Thank you for reading my blog. Cheers :-)