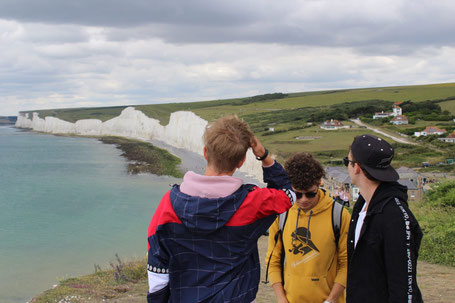 Blog time.
4 weeks — feels like it has only been a few days. Crazy how time flies when you're having a great time. Anyway, this blog will be a 'short' conclusion of the adventure in Brighton. I'm really bad at writing introductions so let's just jump into it.
Job
As you probably already know I've changed my workplace already the first week because at the first job I simply couldn't see any potential to develop any skills. That's why I changed it in the first place — and it turned out to be the best possible idea. My work at journalism.co.uk was not only convenient because it's only about 20 minutes away from my host-family, but it also confronted me with interesting tasks and challenging situations. I overwhelmingly had to deal with marketing-related tasks like designing advertising material for their Instagram account or to adapt their customer database. One task that I've undoubtedly enjoyed the most was to film the team and edit the video to eventually publish it on Instagram.  (If you want to check it out: https://bit.ly/2ydq0iQ ). My colleagues are such nice guys and it was really fun working with them. Thanks team, we're gonna stay in touch.
I've already written that in my second blog but once more I want to thank Stages (our agency) that they managed to deal with my concerns that quickly — definitely something that not every agency is capable of.
Host family
OK to be honest I've written a whole blog about my host-family, just check it out here: https://bit.ly/2MbnNgi
If you're too lazy though, Daniel and I hit the jackpot — it was great.
Leisure-time
Thanks to the good weather we were able to be outside pretty much every day — and that's what we were doing. Usually we just bought ourselves some beer and chips and went to the Pier where we just had a relaxed evening. Every now and then we also went to a pub or a restaurant but in my opinion there was just nothing better than spending the evening by the sea and to watch the sunset;
At the weekends we mostly did party and had a great time. Besides that we obviously explored the city, went shopping or watched some sights. Just fantastic!
Language
'the following is no flexing, it's just how it is'
To be honest, before I went to Brighton I had known that my english is quite good, but being told by 'strangers' how good it actually is; that's just overwhelming. Grades are one thing, feedback from native-speakers is something else.
It didn't matter where we were; at home, at work, or just at the Pier with people we've met. Everybody was impressed by our english level and then hearing words like remarkable, superb, incredible… That just proves that it was worth putting in so much effort and time to improve our english during the last couple of years and I am grateful for that.
Speaking of language, my final conclusion and recommendation to everybody who wants to study/work abroad:
If you really want to focus on improving your language skills, I'd recommend to go on your own. You will talk more to your host family (… I guess?), you will maybe get to known to even more strangers where you have to speak english all the time, etc..
If you really wanna have a great time though, I'd definitely recommend to go with friends. To me it just felt like holidays with my friends where I had to work a little — the "real" day always started after work. 
Don't get me wrong, I'm not saying that we haven't improved our english, obviously we did — No doubt! I'm just assuming that there would even be more potential to develop your english skills when you are on your own. 
Last but not least — actually this is the most important thing.
Big thanks to Mr. Crewe who had made this all possible. For us students it was literally nothing to do despite signing some papers and deciding to which country we wanna go. Big, big thank you!
Now it's just left to say:
Thanks for reading my blogs, I hope you enjoyed.
We've rocked
Stef