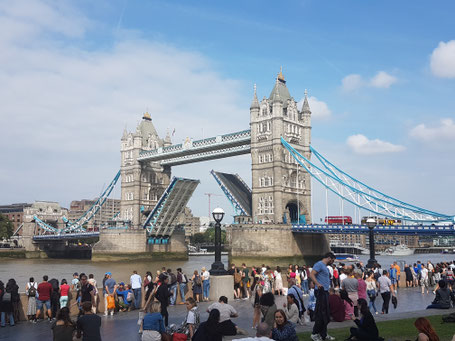 If you're curious, London's a place to be at.
That's why I went there two times during my internship. The first time I joined Dani and Stef. We did the usual tourist things, thank God just the must-sees like The Buckingham Palace, Tower Bridge, Westminster Abbey and Piccadilly Circus. You might seem surprised that I was relieved when the touristy tour ended but it was Saturday and London was annoyingly crowded.
You may know that some of our schoolmates do their internships in London so we decided to meet them for lunch. We got in touch with Halitcan and Marco who then joined us for lunch and afterwards acted like our personal city guides.
They showed us around and made us go to this amazing bar in the middle of London. It wasn't the usual bar you'd find in every city. I don't know who came up with the idea of connecting restaurant, bar and Ping Pong but someone did and it turned out amazing. As every day has to come to an end we took the train back to Brighton.
The week after visiting London I decided to join Annika. So we took a train to London on Saturday and spent the whole day there. The first thing we did was going to the National Art Gallery of London. It wasn't that easy to get through to the Art Gallery as there was a big sports event in the middle of London.
Finally we got there and we were lucky that we didn't have to pay for the entrance. After going through the beautiful exhibition we headed to the Camden Market which is the most famous street market of London. Unfortunately it was overcrowded again but I really enjoyed passing the stalls.
Last but not least one of the London boys (Marco) joined us for dinner at the Tower Bridge. So we spent our last two hours enjoying our meals and then headed back home to Brighton.
Nina