From 19th to 22nd of July my family came to Madrid to visit me. That date was pretty well chosen, because at that time I was halfway done with my internship and it was my dad´s birthday on that weekend as well.
We decided to meet at my apartment after work and then go together to our hotel in the city center. They arrived at 1 p.m. and I stopped working at the same time so we arrived at the exact same time at my apartment. My eyes were filled with tears of joy the time I finally saw them. I can´t describe how happy I was.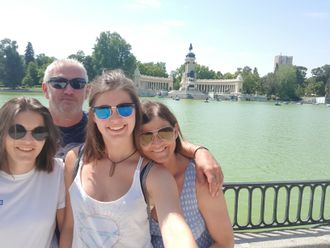 Our hotel was perfectly located. Right in the city center opposite the Plaza Mayor. So, it was no problem to go home in the afternoon and take a short siesta before we continued our shopping/sightseeing tour. It was a quite relaxing weekend. Even though we walked a lot, we just did what we wanted to do, so we had no "bucket list" with what I wanted to show my family. If we were up for a coffee break, we had some coffee, if we were tired, we went back to the hotel and took a nap.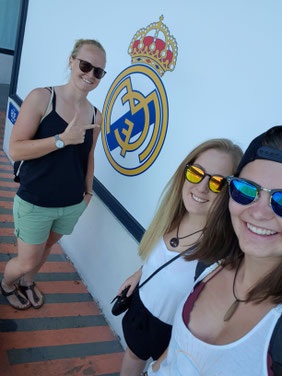 We spent an awesome weekend together. Everybody was in a good mood, we talked about anything that happened recently and laughed way too much. That´s why it was even harder to say goodbye to them on Monday morning, as I had to go back to work. But still, the thing that kept me going was the fact, that two team mates of mine were going to visit me the upcoming weekend.
The week at work went by rapidly and on Friday I was allowed to leave two hours early. How kind! Next, I met Gini and Jul for lunch. After spending the day at the pool, we went to the city center and had dinner before going out for the first time in Madrid! It was so much fun! We went to a club with 7 floors. Just crazy!!!On Sunday we visited the Estadio Santiago Bernabeu. It was cool to see everything, the trophies, the dressing rooms, the field, and so on… but actually pretty expensive. Nevermind, I think it was worth it. Afterwards we enjoyed our last evening with un, dos, tres litros sangria.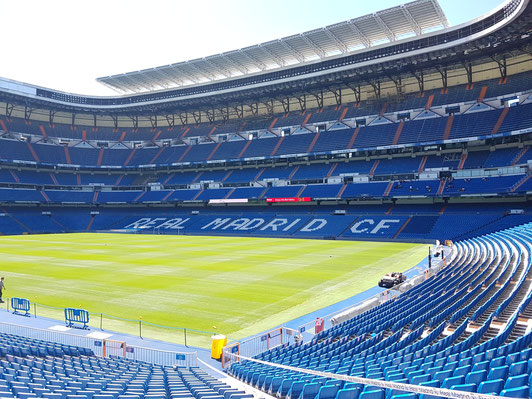 So now let's start into the last two weeks of work, where somethings will change.
From now on I will be working in San Fernando (the headquarters in Spain, kind of) from Monday to Friday and won´t have to go to Loeches. Additionally, I won´t have to work that much hours any longer. They said I can decide how much time I want to spend on my tasks. Actually, pretty cool, but I think it´s an extremely hard decision, as I don´t want to be rude and I really don´t know how long I should work. But I´ll figure that out in the next few days, I guess or I hope.
Let´s do this!
Jana