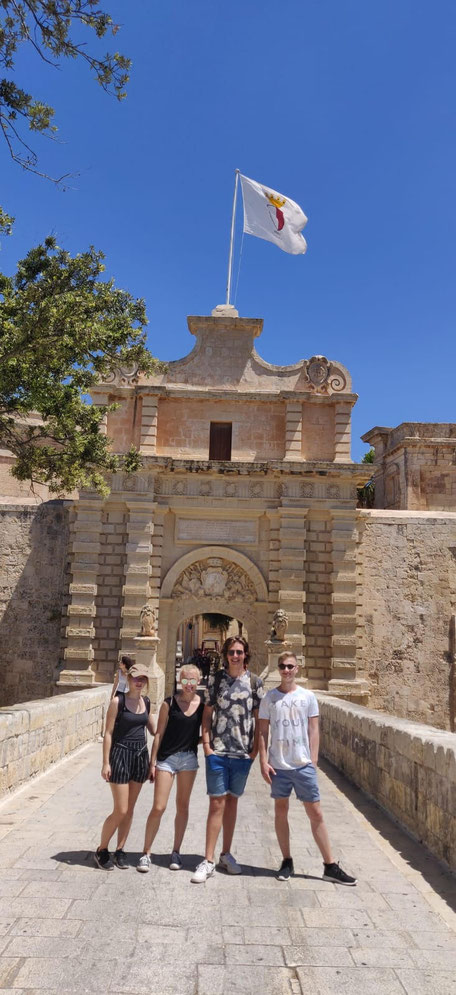 Time to say goodbye to Salzburg and to welcome the new lifestyle, I am going to experience in Malta. What an adventure! Being away from family and friends is quite a challenge. However, we were dropped off at our apartment in the afternoon and we finally arrived in our home for the next four weeks, we were quite surprised. The kitchen was a mess and our "roomies "didn't say a word! With that in mind, our first impressions were a bit disappointing. Luckily we wouldn't let it get us down, so we went to the beach and enjoyed our first delicious meal in our new neighbourhood. 
Regarding the subject apartment, there were some challenges for the three of us (Max, Sarah and me) we didn't really expect. First, we had to buy the groceries we need for the next weeks, which is quite a howl for three people. Second, we (well, I) had to clean and reorganize our kitchen, because our "roomies "took most of the place for themselves, but within 20 minutes or so I was done.
The next few days were more enjoyable than our first impression. We went to the beach Imġiebaħ Bay, visited Mdina (the silent city) and even took a short look at the towns Mosta and Rabat. By the way, for every Game of Thrones Fan the gates of Mdina were used in the series as The Gate of Kingslanding…. How cool is that?! We immediately took a picture in front of it. How awesome! 
So, these would be my first impressions of Malta. Tomorrow starts my first day at the beach club Ray's Lido to which I'm really looking forward to it.
Let's see how this journey works out for me!