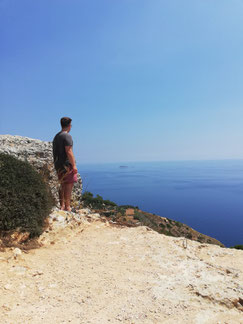 Welcome back to my third post about living in Malta. This time I want to start with a short review about the 2nd weekend in Malta and my 3rd week at work before I come to the highlight of the weekend.
On Saturday Josef and I made a trip to Mdina, where we visited St. Paul´s Cathedral and its Catacombs. Furthermore we travelled to the Dingli Cliffs and Blue Grotto, which has the most beautiful water in Malta.
Sunday we spent on the beach. We chose Golden Bay as our destination, because it´s one of the most beautiful beaches in Malta. Unfortunately the Bay was so overcrowded that it was a bit uncomfortable being there.
If you want to know more about this weekend, you can go to Josef´s blog and read through it. Here´s the link to the blog: https://www.hak1worksabroad.at/2019/07/26/sightseeing-tour-through-malta/

Third week at work was quite the same as the week before. The tasks they gave me were challenging to work out and I got more and more into talks with my colleagues as well. These things made work for me more enjoyable and so the week flew by very fast.
Once again an exciting weekend was around the corner. Friday was more relaxed but Saturday was the "big" day: A few weeks ago my friends and I decided to visit the "Unite with Tomorrowland" which took place in Malta this year. At midday I went to my friends place where we all met. After a delicious lunch we set out to the festival. At the entry we had to go through a security check. No incidents occurred and so we finally were inside of the festival and the party could start. As we arrived rather early the area was not really crowded so we decided to spend some time in the chill-out-area.
The later it got the more crowded the area was. At 8 o´clock the Dutch Duo Sunnery James & Ryan Marciano showed their skills at the Stage in Malta. After they finished the first live-connection to the Tomorrowland in Belgium began. At that time Vini Vici, an Israeli DJ-Duo, played at the biggest Music festival in Europe and we could watch it live in Malta!
At 10 p.m. one of the most well-known DJ´s Steve Aoki played his act in front of thousands of people. Afterwards we connected with Tomorrowland once more to see the live-performance of the popular Belgian Duo Dimitri Vegas & Like Mike. The festival slowly came to an end but one actor was still remaining to perform at the stage: Armin van Burren, another very well-known DJ. He played for more than 2 hours, which was much longer compared to the other acts. But it was worth staying at the festival to listen to his music, because it was a fantastic performance. At 2 a.m. in the morning the festival was over. We decided to go home instead of going out, because most of us were really tired.
Sunday was kind of relaxed once more. I woke up really late, but still tired resulting of going late to bed. Furthermore I was so motiveless all day, that Josef and I decided to spend the rest of the day in our apartment, instead of going to the beach or visiting some sights.
Time passes by really fast imagine that this week is already the last here in Malta. I really enjoy the time here, but If I´m being honest I´m already excited to get back home again.
Lukas