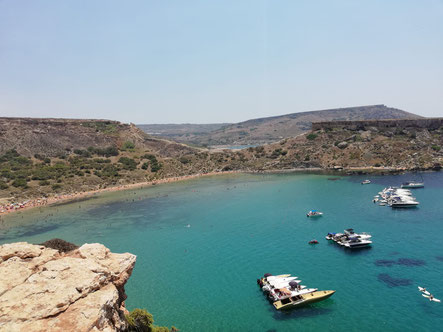 My time here in Malta slowly comes to an end, but before
I´m leaving this beautiful island I´ve got a last blog for you. The first part of it will be about the beaches in Malta.
Beaches in Malta
As Malta is an island it also owns a variety of different beaches. I took the opportunity to visit several during my time in Malta and summarising I can tell you that they are all quite different. There are some which have wonderful sand and there are others which just consist of rocks, but no sand.
And it is worth mentioning that the water is not blue everywhere and the beaches can be crowded as well. If you have the possibility to visit a beach during the week, I would highly recommend that. Furthermore you could use the weekend to visit some sights where it´s mostly not that crowded.
You also have to be aware of jellyfish, when you go swimming. There are bays where you can come across some. Unfortunately some friends and I had to make the experience of getting stung by a jellyfish – But I can reassure you: Even though the stings hurt a lot, after a medic sprayed disinfectant on the painful area, the pain went by and we could jump into the water again.
Summary of my Internship
The second part of the blog is a short summary about my internship in Malta.
First I want to mention that I especially enjoyed lying on the beach. It´s not often the case to be on an island where you can choose between so many beaches to go. Furthermore I really appreciated my work placement at Zarb Coaches. Maybe it was a bit difficult at the beginning (concerning communication and tasks), but summarizing it was a valuable experience working abroad.
Although there were some things which could have been better, the internship was a whole new experience for me and therefore I want to thank Mr. Crewe for supporting us and giving us the opportunity to work abroad.
Lukas