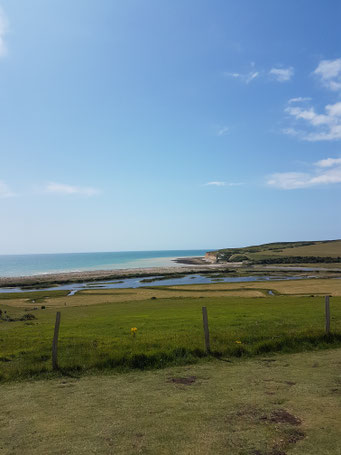 Here it is, the end of my internship. I was the last one to go back home as I decided to stay for 5 weeks and not for 4 weeks like everybody else did. Some people asked me if I regretted my decision but my answer was always the same: No!
So when my colleagues Annika, Stef, Dani, Andi and Jules left I had already made plans for the last weekend. I visited the South Downs National Park which was approximately 60 minutes away from Brighton. It was a beautiful scenery and the absolute highlight was Cuckmere Haven. This is the part of the National Park where the river Cuckmere meets the English Channel.
Then I decided to go to the Seven Sisters again which actually just border on Cuckmere Haven. This time I was walking between the cliffs and the ocean just to explore the Seven Sisters Cliffs in another way as I did 3 weeks ago. And it was massive. You tried to look up but then ended up with pressing back your head into the nape of your neck because the cliffs were extremely high.
After exploring the National Park a little more I decided to visit Eastbourne just to have another coast city to compare.
The conclusion is that Brighton is 10 times better than Eastbourne. It's just the city's vibe (old and sickly) that I didn't like.
Finally my last week started and ended quite nice with a night out. Then on Saturday it was time to go back home but it was quite difficult to get to Brighton Station as there was a festival and all the roads in the center of Brighton would have been closed down by 10 a.m. So my journey back home started at 09:30 a.m. and ended at 11 p.m. (very long I know).
My conclusion to the internship. I was really pleased with my work place and especially with my host family. I've learnt so many things when working for Digitool or just socialising on night outs.
However, this internship wouldn't have been possible without Mr. Crewe's help. So many thanks to him for making this amazing experience possible.
Nina