In a previous blog post I already told you that I am going to spend my last weekend in Barcelona. And so I did. As I only booked my flights and hostel 2 days before departure, it turned out a little more expensive but, well, I was going anyways.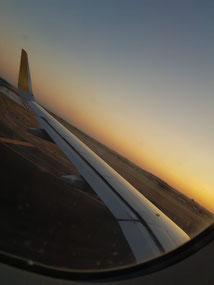 On Friday I got my day off, in order to go to Barcelona. I got up at 4.45 a.m. and went to the airport. The flight from Madrid to Barcelona was scheduled to take 1h 20 minutes, but somehow, we arrived after only 40 minutes. I went straight to my hostel and left my luggage there, as it was only 8 a.m. and check-in was at 3 p.m. I decided to go and visit Camp Nou at first. When I arrived there, I noticed that the price was € 31.50 and not as indicated in the internet "only" € 26. But as I was still pretty tired and wanted to do something where I didn´t have to walk too much I went for it anyways. Afterwards I went to Plaça d'Espanya, as this was not too far away from the hostel. When I returned to the hostel it was only 1 p.m. but I was just too tired to stroll through the city. But I was lucky and my bed was already finished, so I could check-in 2 hours early. Awesome haha! Right after unpacking I wanted to nap, but it was impossible to get some sleep as it was way to loud in the hostel and the surrounding streets.
At 6 p.m. everybody who´s staying at the hostel could join and visit the bunkers. You´ve got a stunning view over the whole city and is not touristic yet. I guess that was one of my favorites that weekend, as we just sat there talking, getting to know new people.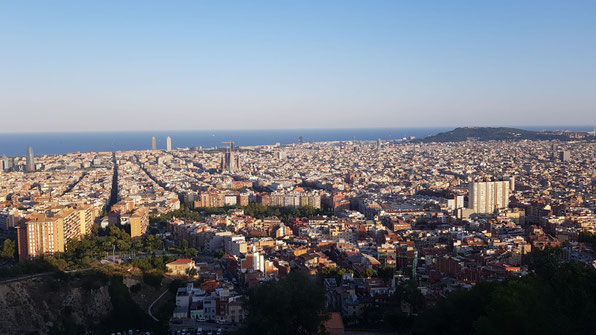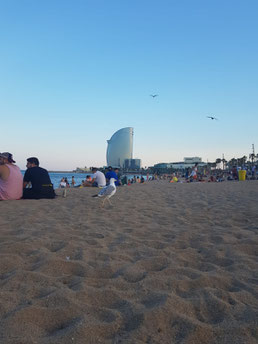 Later we had dinner together in the hostel and played some drinking games before going to a bar. The atmosphere in the bar was quite strange so Valerie, Chris (both from Germany) and I decided to go to the beach instead. We had a great time and after 23h on my feet I was more than happy once I was in my bed.
On Saturday Valerie, Chris and I did a free walking tour through the old town. There were some incidents (like a man bumping into an older lady which fell and as a result she had a big cut on her forehead and needed stitches). But overall it was really interesting. Afterwards we went to Parc Güell and spent the evening on the beach, playing card games, going swimming and simply having fun.
Instead of going out that night we decided to go to bed "early", at 1 a.m. and therefore watch the sunrise from the beach. It was beautiful!
After Chris´ departure, Valerie and I just strolled through the city, drank some sangria and had lunch near the beach. Then it was time to say goodbye. My flight was 1h late, which I wasn´t very happy about, as I was extremely tired after getting up at 5.40 a.m. and running around the whole day. But, well.. in the end I made it home. Overall, I really enjoyed my trip to Barcelona! It´s a city which never gets boring! There´s just soo much to see. I really hope I will be able to go back some time.
Now it´s already my last week at work. Time passes so fast! Stay tuned for my last blog which will be a short summary of my 6 weeks in Spain.
 - Jana