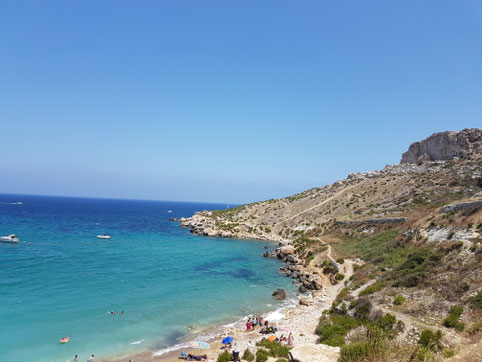 The first week is already over and I´ve got 1000 different impressions. 


To be honest, the start wasn't easy. A driver picked us up from the airport and brought us to our apartment where an unpleasant surprise was waiting for us because the apartment we moved into was pretty dirty and our roommates avoided us. To process the shock, we went to the beach and enjoyed a bottle of wine with which the thing was only half as bad. 


The following day we spent at the beach in Imġiebaħ which was 40 minutes away from the bus stop but very empty and only visited by locals. And I got a painful welcome greet from a jellyfish which sting still hurts (9 days later). 
 
NCW, National Council of Women is the place where you have the best work! It is super interesting to interact with all the different customers and to help them to cope their problems. 


I am more or less every day at the beach and try to explore as much as possible in my free time, which I have plenty. 
I am really looking forward to the following weeks!

~ Sarah