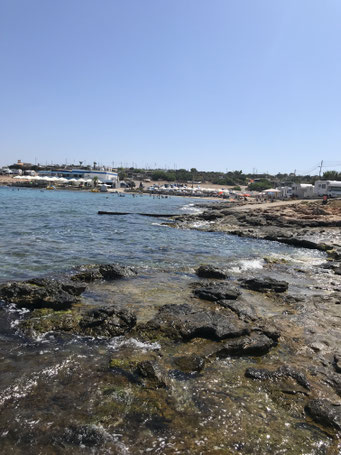 It´s halftime friends! That means we already managed the first two weeks here in Malta. Unbelievable but true. However, because I already have been here for a while and therefore have been working since two weeks, I would like to tell you a little bit about my work at the beachclub, Ray´s Lido.
First of all, we started at the Lido on the 30th of July at 10 o´clock in the morning, pretty nice because we could sleep a litte bit longer than we thought. Then we went by bus to our working place, but because the buses come only every hour in this particular interval we arrived at the Little Armier Bay 45 minutes earlier than we had to. So we killed the time on the beach. (yeah i know, could be much worse) Afterwards we went to the Lido, which is our new second home for the next few weeks. After some missunterstandings, we finally figured out who our mentor during our internship is and immediatly were introduced to our new team. Further more, they split us up and Tanja, one of the waitresses, familierized me with all of my tasks, which include bringing the food/beverages, cleaning the tables after the costumers left and polishing the cutlery at the end of the shift. First, it sounded kind of monotonously and boring, but the next few days I learned how exhausting and skillful it actually is. After the first two working days I figured it out and from there on I handled everything – quick and easy. But there comes more. Because there were less waitresses at the Lido, the manager gave me the permission to take orders from the customers as well, and now I have the same permissions and responsabilities as the other waitresses. Pretty cool isn´t it?
Regarding to the waitresses, the whole crew at Ray´s Lido is very awesome. Everybody is so nice to us and there was no day were somebody didn´t make a joke. The funniest are the chefs and our manager. I mean when we have a lot of things to do, because there is a crowd of costumers out there, everyone gets serious and is doing its very best, but nobody loses his or her humor because of a little bit of pressure.
That´s it about my job for now. Until now, I enjoy working with the staff and to take care of the customers, even though there are a few ones who are a little bit annoying and can be grumpy… but that´s not a problem for me! Because there's nothing you can't conjure away with a little smile. :)
Keep your chins up till my next blog!
Yours, Julie