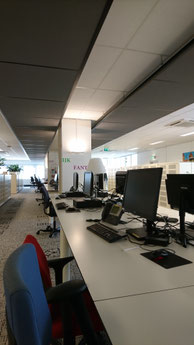 Hello everybody!
A few of you might be very curious about my workplace here in Rotterdam. So here comes a whole blog about my work.
The company
I work for artship, which is an online service which connects art teacher and students. If you're looking for a creative course, you can find it at Artship and don't have to search the whole internet for it.
The office
For this month my boss, Lars, decided to work with me at the offices from SKVR. The SKVR is also a company which provides creative courses, but we have a partnership with them. I am now working in an open office, which is really nice.
My tasks
I am the head of the marketing department! Yeah, it is only me, but still, it is my department. I am responsible for our social media accounts, and our advertising campaigns, I plan and design them.
I also design drip email campaigns, which is a lot of work, but I enjoy it.
Additionally to my tasks Lars thought I should learn some coding. I already know the basics of HTML and CSS, so I already could design my own website from scratch.
Unfortunately, my internship doesn't really help me to improve my English. Since Lars is from Germany, we mostly talk German.
Nevertheless, I enjoy working at Artship. I have a great job and I learn so many new things!
In my next blog post, I'll tell you more about The Hague, Delft and how I spend my free time here in Rotterdam.
I'm sure you can't wait to read it!
Julie