In the last few weeks I visited some very beautiful and charming places here. So I will just continue to talk about some places which I really enjoyed to experience so far. 
Mdina 
Even though I already told you a little bit about the silent city I just had to mention it once again. It is my favourite place in Malta! Whoever has been to San Marino before can compare it to Mdina, although San Marino is bigger. However, what I liked most about Mdina was for sure the view and the doors. I know sounds a bit ridiculous (my classmates made fun of me as well) but all the doors had different, bright shining colours which gives the city a little more flair. I just love it!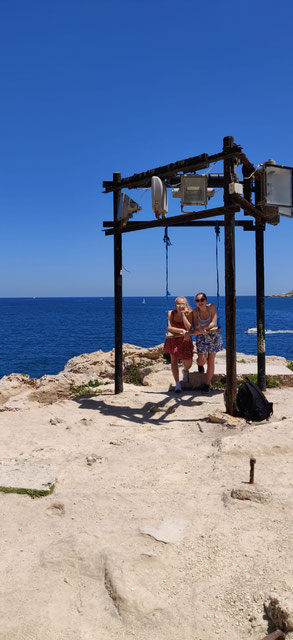 Valetta
I have already been to Valletta three times because I liked it so much. There is a little bit more going on than in our "hometown city" (St. Paul's Bay). There are also shops which I haven't seen before like for example a little gem store where I already bought like six bracelets (Ooopsi). Furthermore, we experienced the city itself and found a big rock near the "beaches" in Valetta with a swing on it. (Just look at the photos and then you can imagne what i mean). Anyway, we also found a food market which we visited last Friday… and I can tell you we treated ourselves well in there …mjam!
Gozo
Two weeks ago Max and I went to Gozo. We visited Victoria, the capital city, and its monuments as well (Citadel and so on). Furthermore we went to Marsalforn by bus and then had a challenging 1½ hour walk near the cliffs to Ramla Bay. How fun was that (note it was so exhausting… but now we laugh about this little adventure). After a swim in the sea we went back home for like 2 or 3 hours thanks to this GREAT bus system… and then got pizza!
So far I enjoyed my three weeks here and I am looking forward to my last one.
So stay tuned and keep hitting the reload button till my last blog post.
Julie