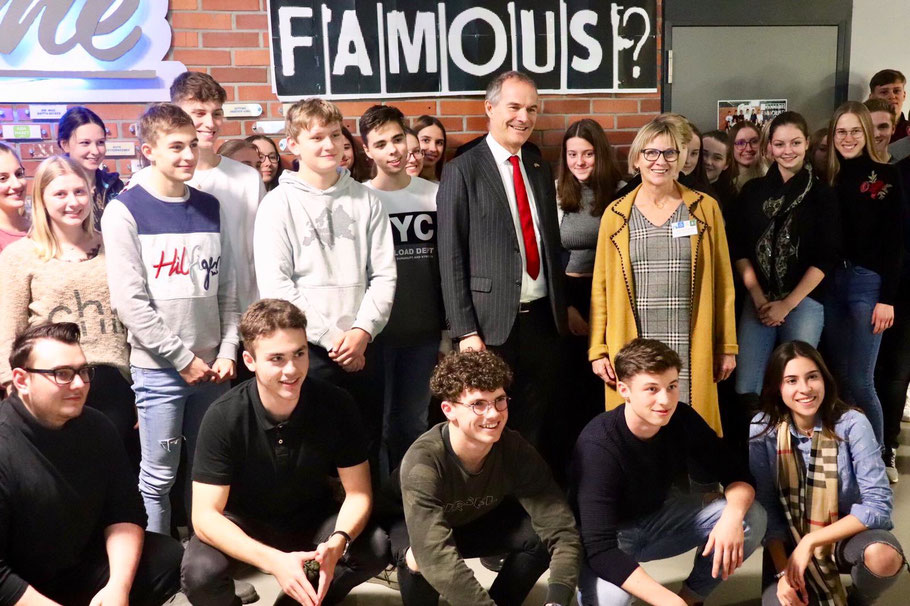 On Tuesday 10 December we were delighted to welcome the British Ambassador to Austria, Leigh Turner, to HAK1 Salzburg to tell him about our Erasmus+ project, HAK1 Works Abroad.
A fantastic team of 6 participants presented our school concept and the HAK1 Works Abroad Erasmus+ project to the Ambassador. The Ambassador then told us about his life in diplomacy before taking our questions. He was hugely impressed with the fluency and spontaneity of our students' English.
Overall we were delighted with how the event went. The Ambassador was so warm, friendly and open, and our students really responded well to that taking a great interest in what he said and asking thought-provoking questions. Although the Ambassador wouldn't be drawn on Thursday's UK election, he was prepared to make a prediction on the score in the evening's football game between Salzburg and Liverpool. His 3-3 prediction was a little optimistic but it turned out to be a great game.
It really was a fantastic event and a huge credit to the Erasmus+ participants and their school.
Many thanks to all involved.
You can follow Leigh Turner on Twitter: https://twitter.com/LeighTurnerFCO and the UK Embassy in Vienna on Facebook: https://www.facebook.com/ukinaustria/