Finally I'm in Barcelona - after last year's cancellation of the project due to Covid-19, I am even happier and couldn't be more grateful to participate in ERASMUS+ this year. It was a long wait to finally be in Barcelona to do all the fun stuff like sightseeing or spending days and days at the beach. Besides working I saw ERASMUS+ as a great opportunity to have kinda like a four-weeks vacation :) So, as you might have noticed I had quite high expectations and honestly, they have been exceeded by far!
Barcelona has been a blast so far - the balance between work and leisure time is just perfect. I work at an NGO called Siel Bleu in the marketing department. Basically all I have to do is designing different kinds of flyers and helping with monitoring the company's social media performance. At this point I definitely have to thank Mr Crewe and the agency for arranging such a great job as it matches my interests perfectly! The company only sets very broad limits within which I can be creative and realise my own ideas. The other fun part is that I get to work with Anita Athary (she's responsible for the company's accounting), meaning we spend the whole time together and help each other out when Spanish skills are once again not sufficient enough :)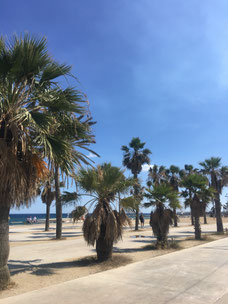 When not at work we use the time to walk through the city to visit well-known monuments. Barcelona has lots of beautiful places to offer, so our list of sightseeing for the next weeks seems to be endless :) 
To be honest, sometimes we're simply to lazy for everything - that's when you can find us at the beach chilling in the sun. On the picture you can see where Anita and I often spend our two-hour break from work as the company is directly located next to the sea. 
All in all I really enjoyed the first couple of days in Barcelona and I can't wait what the next weeks have in store for us :) 
¡Adiós y hasta la próxima vez!