English version below!
Como prometí en el último blog, voy a dedicar este blog más a nuestro tiempo libre. Los fines de semana solemos descubrir la belleza de Barcelona y sus alrededores. Durante la semana, no podemos hacer tanto ya que trabajo hasta la tarde y normalmente no llego a casa hasta las 17:30. Así que, si no nos quedamos en casa, a menudo vamos al centro por la noche para comer o para tomar una copa. Y como Barcelona está junto al mar, también tenemos tiempo para ir a nadar o descansar en la playa. Como me llevaría mucho tiempo explicar cada una de las actividades que hicimos durante las últimas semanas, os pongo un pequeño calendario con nuestras actividades principales: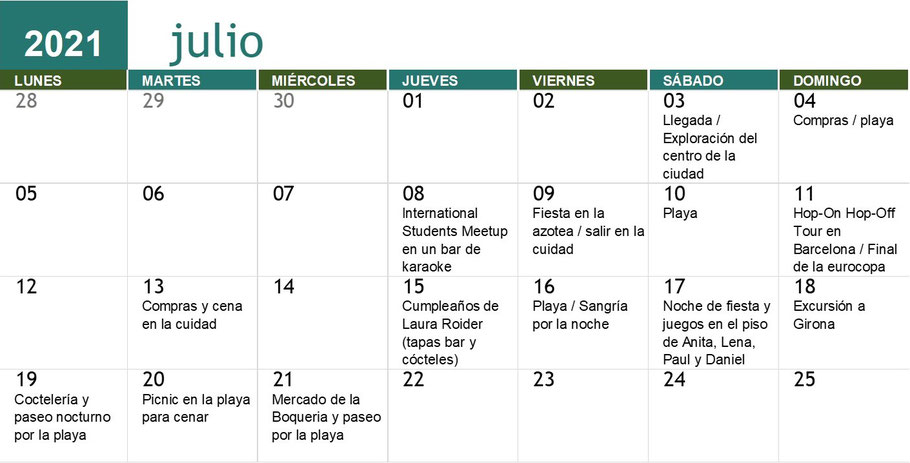 Para más detalles podéis leer los blogs de Anita, Lena, Laura, etc.
En resumen, se puede decir que hay mucho que ver en Barcelona y que nunca te aburres. Además, ahora que Anita, Lena, Paul y Daniel también han llegado a Barcelona la semana pasada, hacemos también muchas cosas con ellos.
En cuanto al trabajo, me sigue gustando mucho. Las dos semanas en Controlling fueron muy interesantes, me mostraron y explicaron muchas cosas y así pude aprender mucho. Desde esta semana, estoy en Marketing y los primeros días ya me gustaron. Por ejemplo, me explicaron el marketing en Facebook y Google Analytics en detalle y también con ejemplos de los propios anuncios de Volkswagen y sus concesionarios. Así que no veo solo la teoría sino también la práctica. También me dieron algunas tareas de redes sociales, como buscar tweets interesantes para la cuenta de Twitter que podamos retweetear (retweetear – qué palabra divertida), y actualizar los canales de YouTube de la empresa y de los concesionarios (23 canales en total). ¡Ya tengo ganas de ver qué más me espera en los últimos 7 días de trabajo! 
Translation by DeepL:
As I promised in the last blog, I'm going to dedicate this blog more to our free time. On weekends we usually discover the beauty of Barcelona and its surroundings. During the week, we can't do so much as I work until the afternoon and I usually don't get home until approx. 17:30 h. So, if we don't stay at home, we often go to the centre in the evening to eat or have a drink in a bar. And as Barcelona is by the sea, we also have time to go swimming or relax at the beach. As it would take quite some time to explain every single activity we did during the last weeks, you can find here a small calendar with our main activities: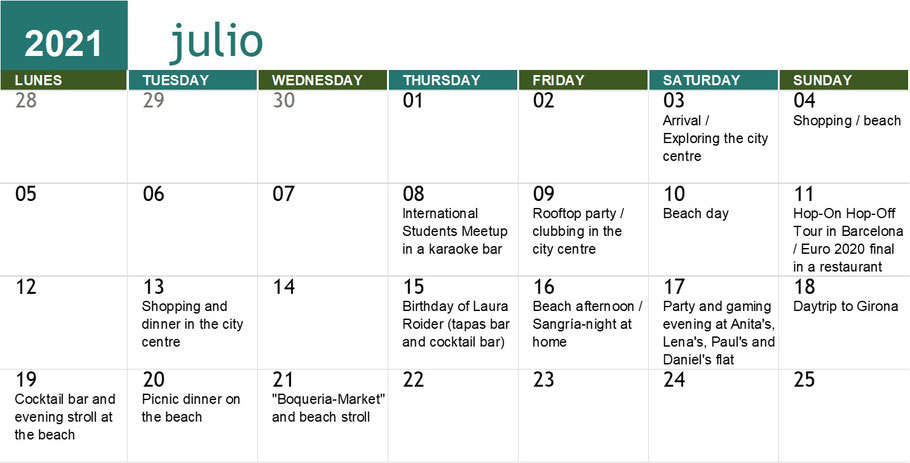 For more details you can read the blogs from Anita/Lena/Lauras/etc.
Summarising, I can say that there is a lot to see in Barcelona and we never get bored. Besides, now that Anita, Lena, Paul and Daniel have also arrived in Barcelona last week, we also do a lot of things with them.
As for the work, I still like it a lot. The two weeks in Controlling were very interesting, I was shown and explained many different things and I could thus learn a lot. Since the beginning of this week, I have been working in Marketing and I already liked the first few days. For example, my colleagues explained me Facebook marketing and Google Analytics in detail and also with examples from Volkswagen's own advertisements. So I not see only the theoretical part but also how it's done in practice. I was also given some social media tasks, such as finding interesting tweets for the Twitter account that we can retweet, and updating the YouTube channels of the company and their dealerships (23 channels in total). I am already looking forward to what is yet to come in those last 7 days of work!