Time flows by too quickly – the second week is almost over and honestly, it feels like we just arrived yesterday. Two adventurous weeks lie behind us. Two weeks full of sightseeing, swimming, working and simply having fun. No day goes by without any fun activity, whether it's playing beach volleyball with colleagues or just a cozy game night. We take every opportunity to explore all the corners of Barcelona even if that means waking up super early, coming back late at night, the next morning waking up sleepless ... But it's totally worth it! I mean, how could you stay at home in this beautiful city not taking advantage of the nice (very hot) weather?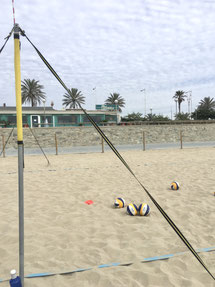 Concerning work in Barcelona? Literally I can't complain. I really enjoy the spanish way of organizing working life – nobody starts before 9 am, long lunch breaks …
What makes Siel Bleu unique and outstanding as a company is their special care and concern for all the employees. The company not only represents its motto of promoting exercise and sports to the outside world, but also lives this vision within the company to the fullest. They try everything to create an experience that goes beyond work. So, every Tuesday morning you'll find us at the beach sweating – but not because we're chilling in the sun. In a weekly lesson we practice our volleyball skills with a professional trainer. On Fridays on the other hand we start the weekend with an intensive 45-minute workout session.
You see, team spirit is completely re-defined by the company or have you ever been to a big afterwork-party with lots of national food and drinks just because holiday season is starting now? Even generally speaking spanish people find in everything a reason to celebrate. Cada día es una fiesta – everyday is a party. They really live by that attitude and I personally think Austrians should definitely take this as an example.