My trip to Dublin started with me waking up at 5am on a Saturday morning. I was then driven to the Munich Airport by my parents. The airport was suprisingly empty. My flight was a direct flight from Munich to Dublin. There were some turbulences but overall it was a smooth flight. After arriving in Dublin I had some trubbles finding the right bus to the city center of Dublin because there were like 20 diffrent buses to diffrent locations. After finding the bus, I left the bus at O'Connel Street and then went with a full packed luggage through one of the biggest shopping streets of Dublin to get to my accomodation. There I have 5 Roommates. With them I share a Kitchen and a living Room.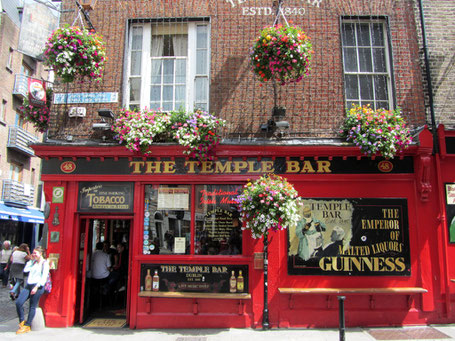 On the second day of my stay, I was exploring the city of Dublin by going to Grafton Street, the most popular shopping street of Dublin. Later that day, I went to Temple Bar which is not only a single Bar. Instead it is a big area, where many pubs and clubs are located. But there are pubs in basicly every corner of Dublin not only in Temple Bar. There I ate Fish and Chips and drank a "pint" (which basicly stands for half a liter) of Guiness. 
I had my first work day on Monday the 26th of July. I am working for the Five Lamps Arts Festival, which is an area based festival located in the northern parts of Dublin. They work with every kind of art from opera to grafitti and are all freelancers that work for the community in this area. They are organising a festival usually every spring but because of Covid they had to postpone it to July. I am in charge of the social medias especially Twitter. During my first week, the festival was still going on and there were two exhibitons. On my first day I was at the CHQ where one exhibition is taking place. It is called P A L I M P S E T and the 3 Artists are all local women who are all portraying diffrent individuals during the Covid time. My Job there was to keep everything under control and informing the visitors about the art. On my second day and the rest of the week I worked at a small Art Studio called "D-Light Studios". The first time I went there I was confused because I didnt expect such a nice Studio in this Area because all the houses around where old apartment blocks from fabric workers. In the Studio was the second exhibiton also by an local female artist. The paintings showed homeless people from dublin. My work there was also take care of the place and inform visiting people about the covid regulations and paintings. In general, my week was great and I hope this will continue.