Hi, as far as I can remember last time I promised to tell you a little more about the city, so here goes...
Dublin - 100% international 
Compared to Salzburg Dublin is quite the big city. It has a population of nearly 2 million people and a lot of people of non-Irish backgrounds. In fact so far the only real Irish person I have been talking to is my manager at Safari Childcare. My closest coworkers are from Spain and Brazil. And my old flatmates who I had to leave behind on Friday were from Korea, India, Taiwan and also Spain. My new flatmate by the way (it's just one person and I rarely ever see him) is French, the guy at the reception, who I mostly talk to, is Croatian and the kids I'm working with have parents from Poland, Italy, France, Turkey and Ireland of course. Getting to know people from so many different cultures is really lovely even though I sometimes struggle with the accents. Especially my Spanish coworker is sometimes really hard to understand, up to a point were "tablet" and "buggy" became words I had to ask her to repeat for me at least twice until I understood, but since she knows that this is a problem she doesn't mind that, thank god. However, what this does to me is making me feel like my English is bad, although I know it's not. 
Dublin - The City
As a city Dublin has lots of sights to offer, some of which are situated directly on my way to work. Among these are: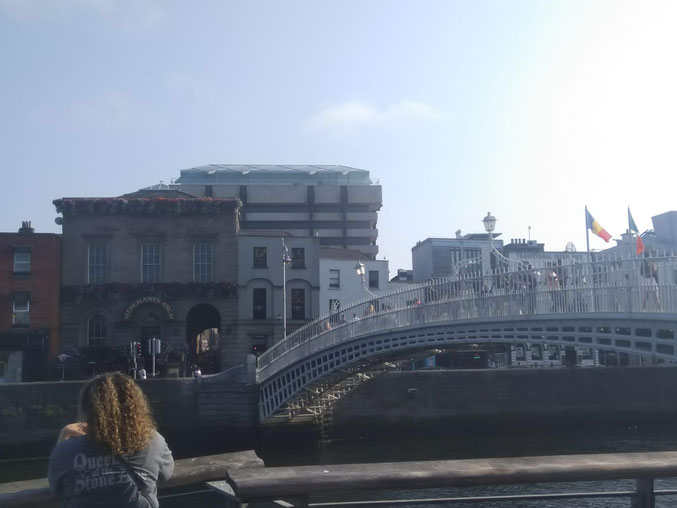 Hal'Penny Bridge and Merchant's Arc, The Spire at O'Connell Street and O'Connell Bridge (of which I'm said to say I don't have a photo yet - too much traffic),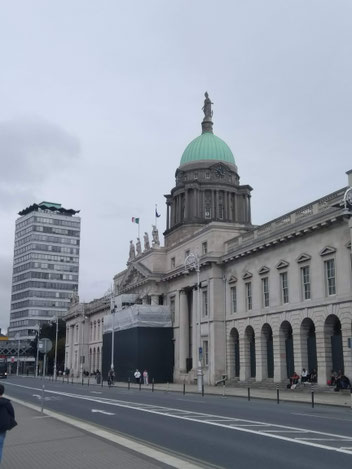 Dublin City Hall (Entrance is currently being renovated),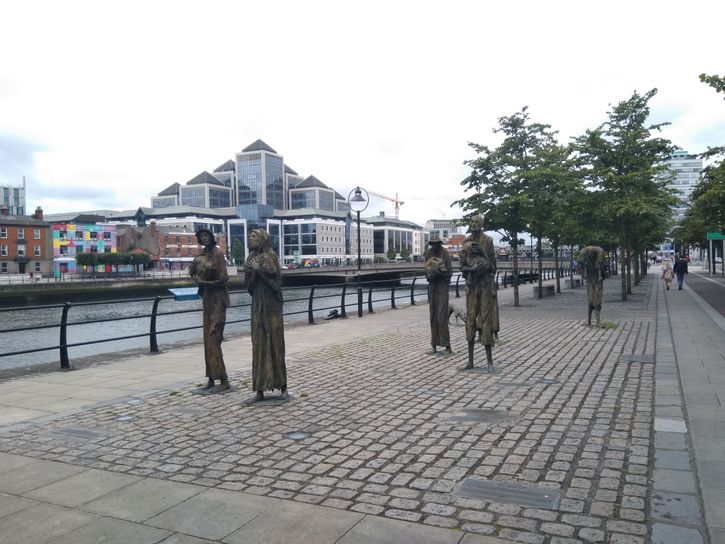 The Famine Memorial (it is placed here, because this is where the old docks were, from which many Irish fled the famine),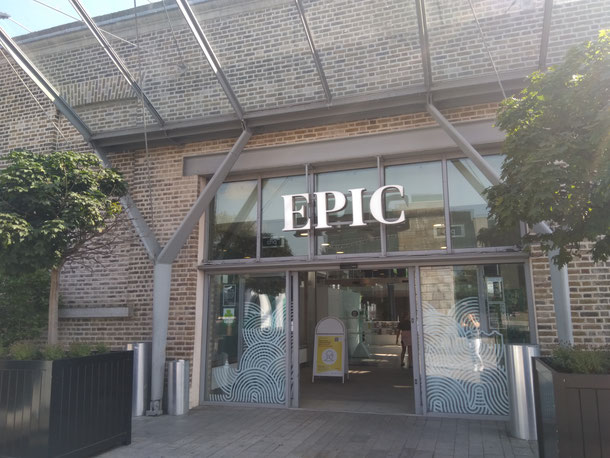 The EPIC Museum of Irish Emigration (which I visited on Saturday; it's located in the last still standing warehouse that was formerly part of the docks)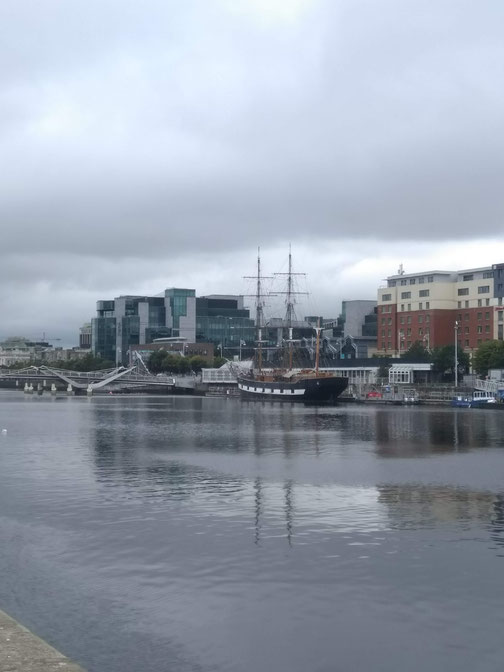 and finally, The Jeanie Johnston - a complete reconstruction of a ship used during the famine years in the mid 19th century to transport people from Ireland to America. They fit about 250 people into the belly of this ship - can you believe it? And it was one of the best transport vessels leaving Ireland at the time. There are not even any portholes, which means there's hardly any daylight below deck. This is because the ship was originally built to transport cargo (mostly wood) and not people.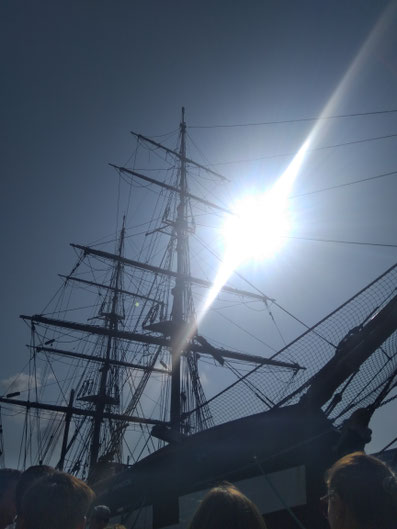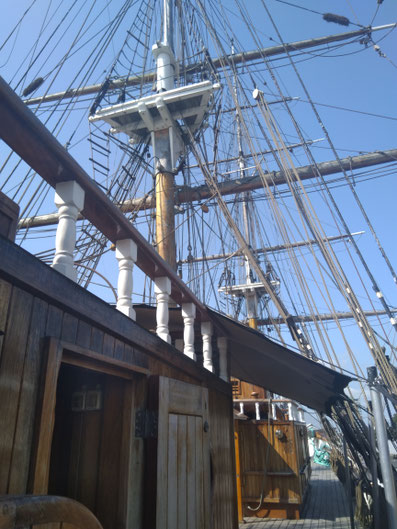 (Close up photos from when I took a guided tour onto the ship on Saturday)
They chose to rebuild the Jeanie Johnston because it was the only one of the so called "Coffin Ships" used during the famine that nobody ever died on. Even when it finally sank, during a trip transporting mostly cargo, the whole crew survived. 
Aside from the historical or cultural sights Dublin has some really nice architecture both modern and old and often both melting into one another.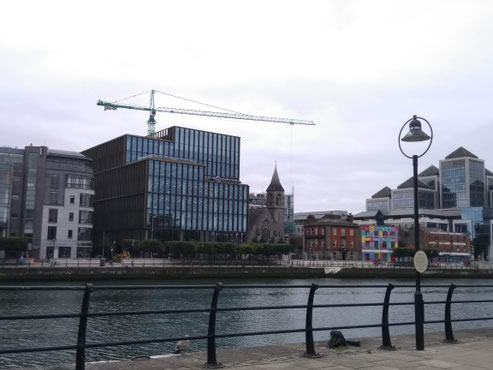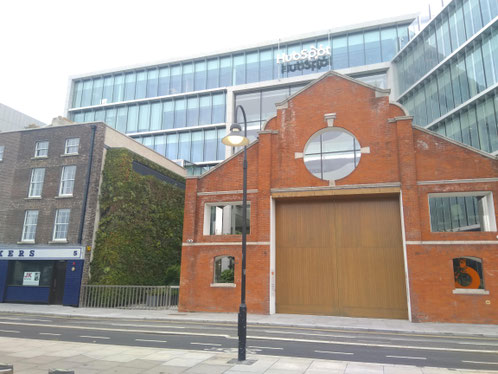 I guess this is what they call "protection of historical monuments" in Dublin. 
Dublin is also a city of churches, a city of marvelous, giant graffiti painted on almost all the otherwise dirty gray, unsightly walls within the city (some photos maybe next time), a city of cyclists and sadly also a city of streets and foot walks littered with trash especially along the river in the mornings. A big part of this trash problem are cliques of teens and tweens that gather on the quay each night to party since the pubs are still closed due to COVID. I've also heard of people being randomly attacked after nightfall. At first this aggression was apparently mostly directed at people who did not look particularly European, but by now everyone passing down there after sunset puts themselves at a risk of being their next target. When you are on a bicycle passing by, a group of seven to eight people might suddenly block your way, surround you, pull you off your bike and take it from you after a nice beating to top it all up. That's what happened to my coworker's boyfriend. But enough about the city, more about work...
Safari Childcare - Week 2
I still get along well with everyone, by now I even have a favorite baby. He's maybe fourteen or fifteen months and is rather one of the quiet ones. He likes to play ball with me, gives me hugs when I stretch out my arms in his direction and enjoys being lifted up by me. This week we started listening to music with the kids more often. Not only Cocomelon baby songs but also Disney Songs and pop music. We have a tablet and a TV in our room, which we use to play the songs. The most difficult time each day is mostly nap-time after lunch (which for some reason we call dinner??), because all the babies hate being put into their cribs to lie down. But you don't want any child to miss their nap time, because seriously tired babies are angry babies. I'm amazed though at how easy these little ones fall asleep and how unfazed they are by their fellow babies screaming. We had a new girl this week, who is exactly one year old. She's a very lively one, which means that she's either laughing or crying, her mood sometimes switching from second to second. What makes her happy is when I put a ball in her hands and then take it from her very quickly repeatedly. There's another one, a boy, who's 13 months and who might yet learn how to walk in the two weeks to come, he's already so close! On Friday I drove him around in one of the big plastic cars we have for the children in the outside garden and I think he enjoyed it a lot. Friday was a good day for him. He only cried very little and played a lot, which was huge progress. The days before he spent a lot of times at the door to the room crying and looking up to his backpack, wanting to go home. One of the most difficult things for me to learn so far has been that sometimes a crying child needs to be left alone. Especially when they are crying simply to complain about well nothing and everything and actually nothing. With this kind of crying most babies don't even have tears in their eyes, so once you know it's rather easy to figure out who's really in need of a hug and who's just throwing a show. I'm already looking forward to the oncoming week, maybe next Sunday I'll have new stories to tell, until then, bye-bye.