They are probably Ireland most famous sight - the Cliffs of Moher. Eight kilometres of jagged stone rising up to 214 meter above the sea. I have been to Ireland two times before and both times I wasn't able to to visit there. So when I heard that there were bus tours starting from Dublin going directly to the Cliffs of Moher I, of course, had to book myself a spot. At first I thought I might spend the whole day alone, since - unlike most of the other participants - I had not taken anyone with me. In the end however I ended up sitting right next to the only other girl, who was also doing the tour on her own and she promptly asked me if I wanted to explore the Cliffs together with her. This is how, for the first time since I arrived in Dublin, I have photos of myself at a sight and not of only the sight (I hate taking selfies). 
The girl was really nice, she was from Brazil, but actually living in London. The day after the tour she sent me 176 pictures. So you can imagine how often we stopped, taking photos. Actually I let her act as the photographer, except for when I took pictures of her, because her phone's camera, simply had a way better quality than mine. XD But the amount of pictures we took probably also explains why we arrived at the bus ten minutes lat, everyone already waiting for us. Luckily we had a lovely tour guide, who wasn't mad at us at all. He knew a lot about Irish history and sights connected to it that we passed by on our way. This made the seven hours spent on the bus totally worth it even though my shoulders are still hard as rock.
Some pictures taken at the cliffs: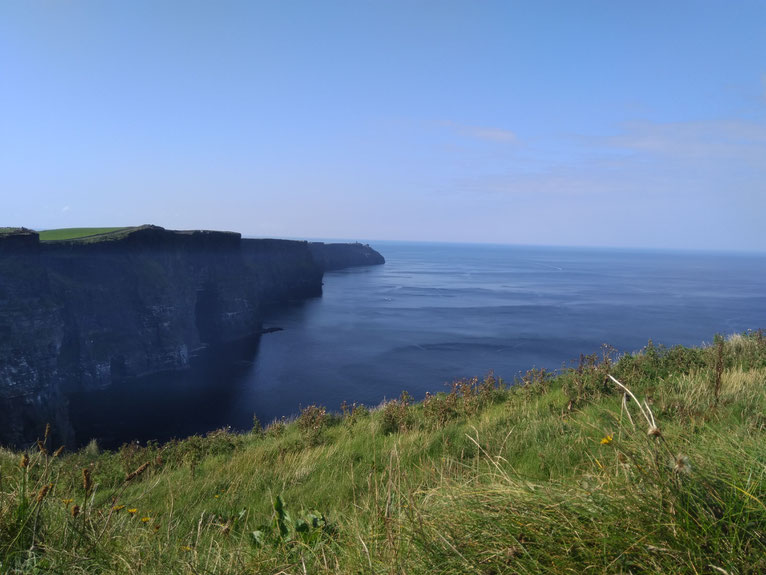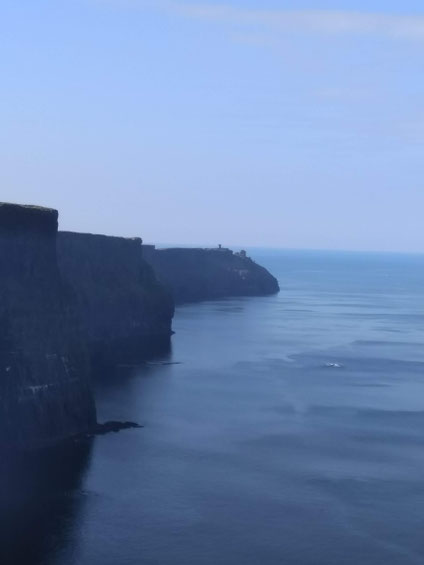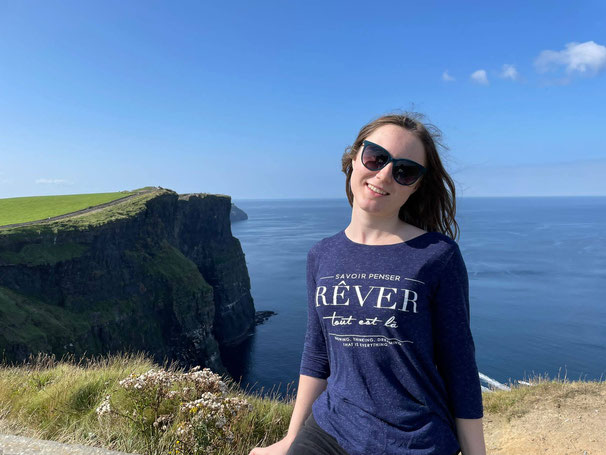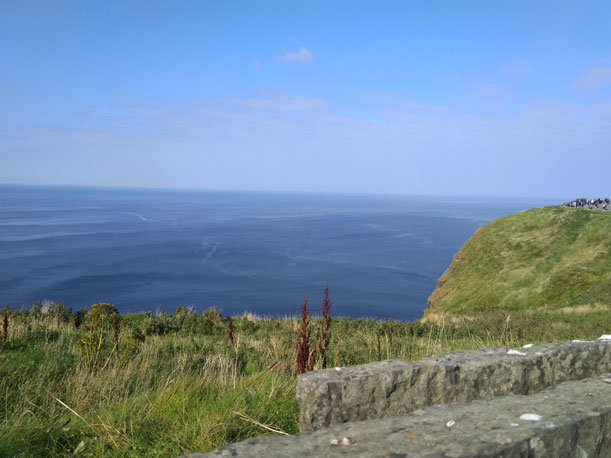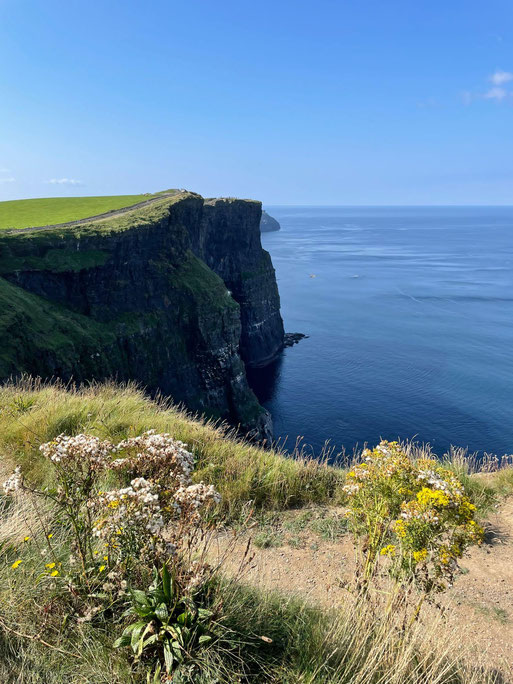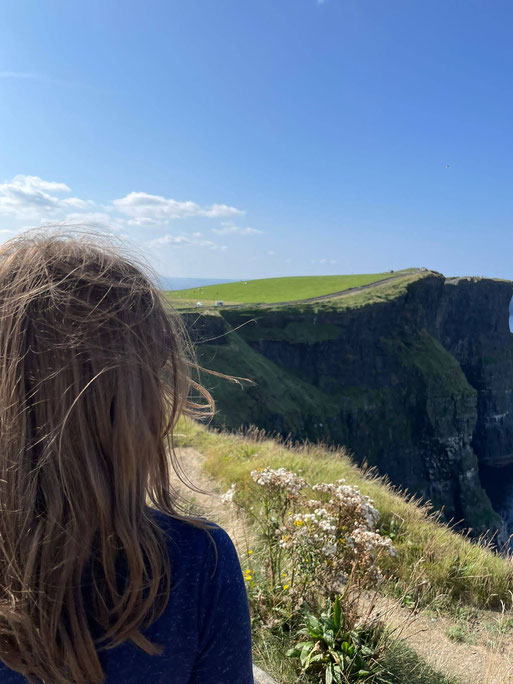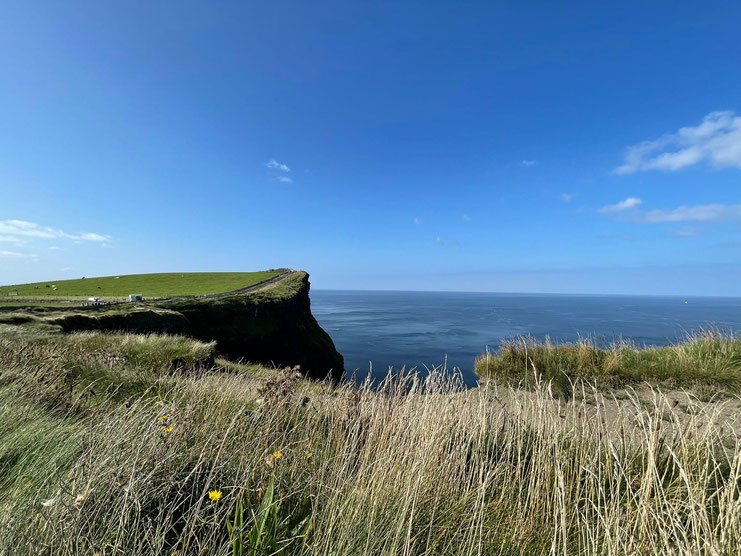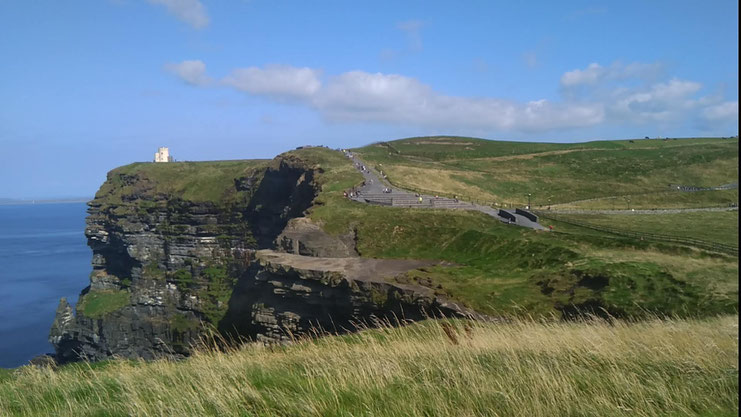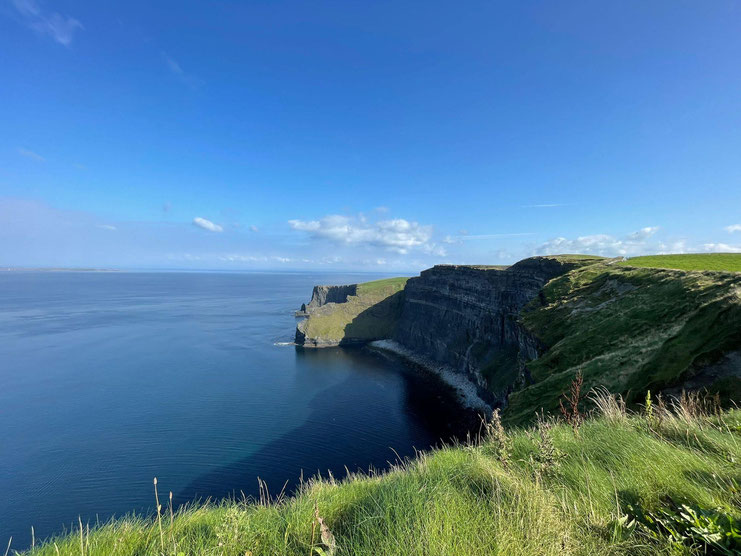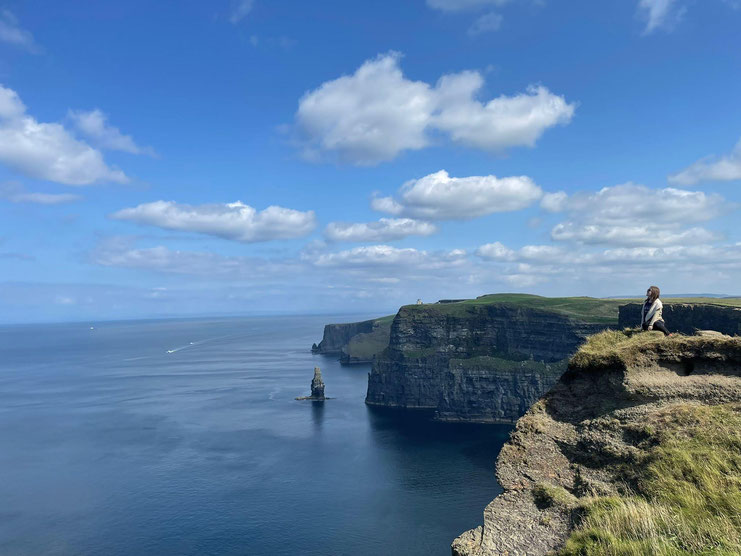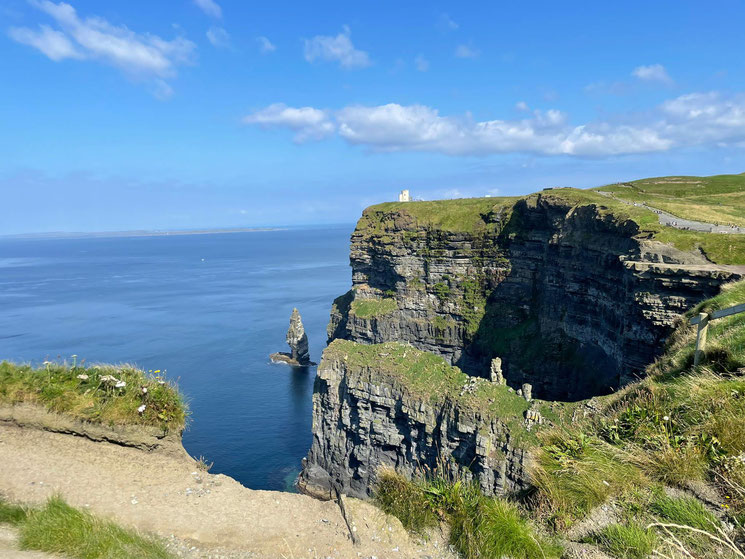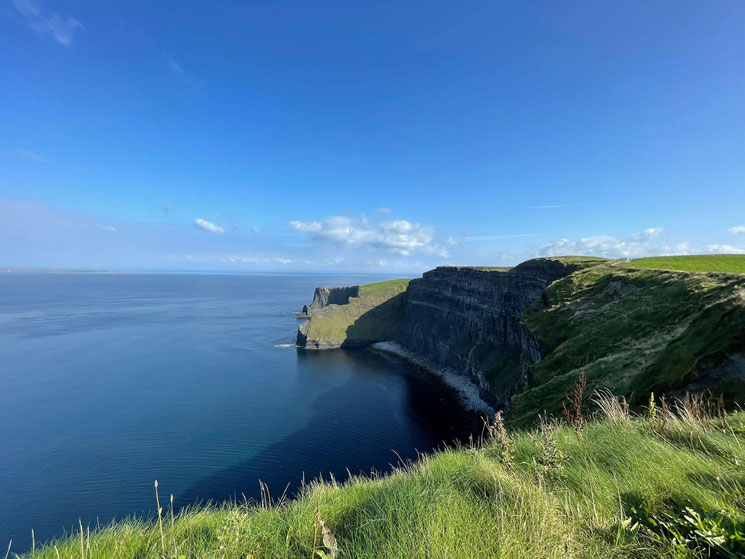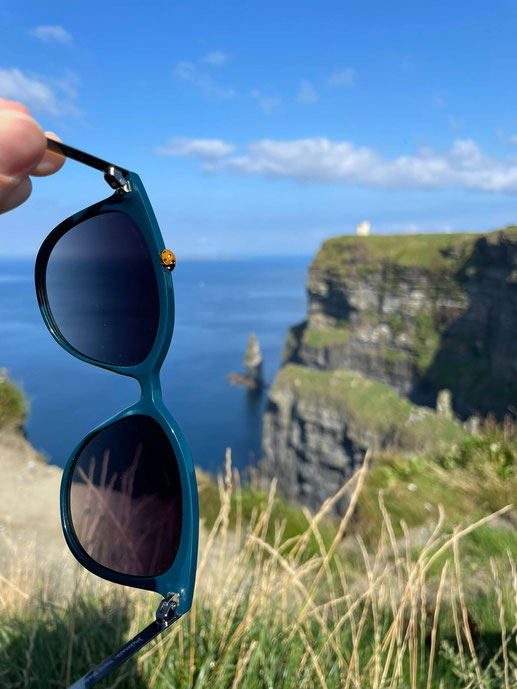 During our little expedition we were visited by a little lady bug, who even followed us for a bit. 
We took it as a sign of Good Luck. : ) The weather as you can see was really awesome and untypical for the Cliffs. There was hardly any wind and the sea nearly looked like a carpet. We had between 18° and 20°, which is also rather warm.
But we were not only at the Cliffs of Moher, we also stopped at the Baby Cliffs. A landscape apparently not unlike the landscape of the moon, though in my opinion it looked more like a giant stone cake cut up into unequal pieces.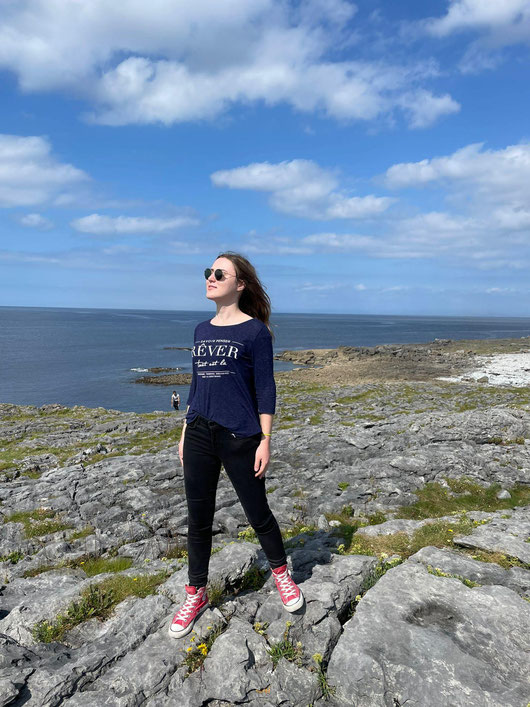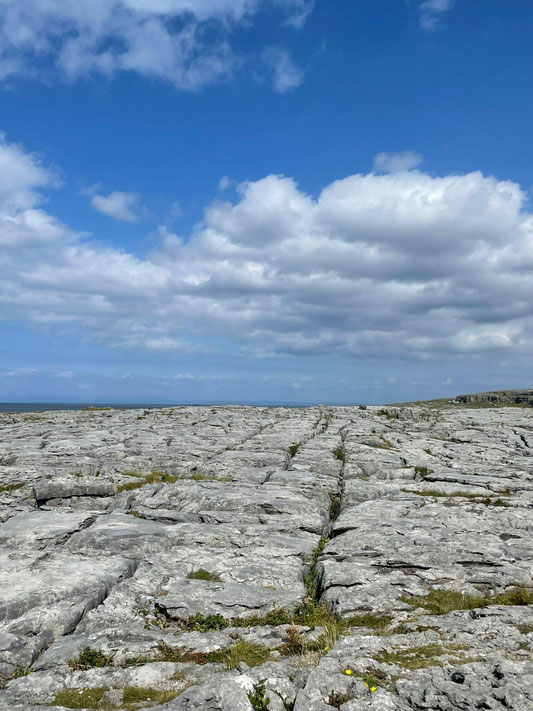 After the Baby Cliffs we headed to an ancient monk settlement that once spotted seven churches!! When I asked the tour guide if that wasn't sort of a waste of resources he stared at me as if I were some kind of alien. XD XD Turns out we had a little misunderstanding, because I thought the monk settlement hosted about six monks and that was it, in which case if would have been a waste of resources to build seven churches in the same spot, but actually the monk settlement had about a thousand citizens so seven churches seems to be okay. Especially because their size is not the size that you would assume a normal church to be. To me the ruins seemed more like the remnants of chapels and not churches or even cathedrals. The tower on the picture below by the way is already over a thousand years old, which I think is really impressive. During the Viking raids the monks used to hide there valuables in there before fleeing deeper into the island. The entrance to the tower is located about six to seven meters above the ground and the cemetery around it is still used.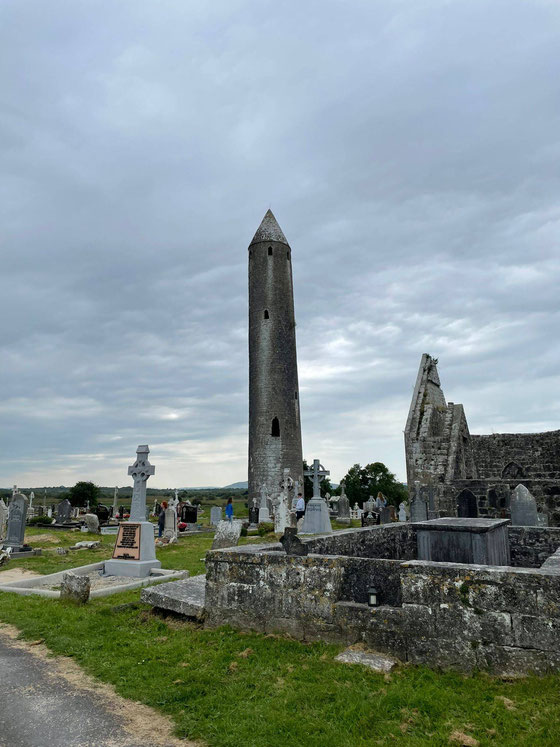 The last stop on our trip to the wes coast was Galway. We didn't stay for long though and so we had only time to grab a bite and by some postcards before we had to go back to the bus to return to Dublin. But all in all it was an amazing tour that I really recommend taking, when you plan to do your internship in Dublin : )