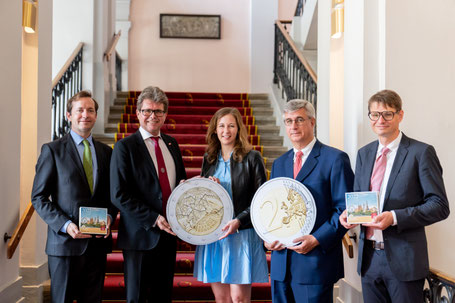 The Erasmus+ programme was first launched in 1997. Many of today's participants will have parents who were among the first people to travel abroad thanks to the programme.
This year we are celebrating 35 years since the launch of Erasmus+ and 30 years of Austrian involvement. To recognise the achievement a special €2 coin has been created and launched in all eurozone member states.
Erasmus+ is one of the most recognisable achievements of the European Union. To date around 350,000 Austrians have been able to participate in an Erasmus+ mobility.
Erasmus+ at HAK1 Salzburg
This summer 19 students from HAK1 Salzburg will be going abroad to Italy, Spain, Malta, Ireland and Croatia to undertake a part of the compulsory work experience in a foreign country. Each will receive a subsidy from our HAK1 Works Abroad Erasmus+ project of around €1,000.
In addition to our HAK1 Works Abroad project we also work with schools from other countries in "strategic partnerships". We are currently involved in two of these:
Connecting EU: A project involved with Industry 4.0 (the industry of the future) with partners from Germany, Spain, Finland, the Czech Republic and Belgium
Time to Help!: A project working to improve the local environment. Partner schools from the Czech Republic, Cyprus, Latvia and Italy.
The school benefits from Erasmus+ as well as our students:
As a result of our Erasmus+ involvement we have been able to invest in equipment for our stage and an A0 printer.
Participants bring knowledge and experience back into the classroom with them
Find out more here: 
German: https://presse.oead.at/news-neue-2-euro-muenze-ab-1-juli-im-umlauf?id=159824&menueid=9257&l=deutsch
English: https://presse.oead.at/news-highly-coveted-2-euro-commemorative-coins?id=159827&menueid=21989&l=deutsch